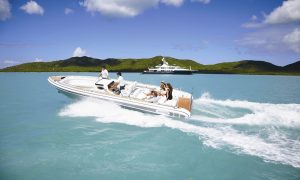 Archant Dialogue has been newly appointed by Burgess to publish Burgess Magazine, an exclusive annual superyacht living and style publication, which is distributed to some of the world's highest net worth individuals.
Burgess is a global leader in managing the entire experience of owning or chartering a superyacht, including construction, purchase and sale, support services, insurance and charter services.
The appointment confirms Dialogue's position as a leading publisher of content for luxury and bespoke brands, with a client portfolio that includes Bentley Motors, Royal Ascot, Porsche Club and Air Charter Service among others.
The coveted 200-plus page Burgess Magazine is now in its 12th year of publication and is highly collectible, with eye-catching covers and extremely high production values. Each magazine features some of the world's most beautiful yachts for sale and charter, as well as inspiring luxury lifestyle content from around the world.
Burgess Magazine's distinctive design reflects the brand values and client priorities of the business, which was founded by renowned ocean racer Nigel Burgess in 1975. With a head office in London's Regent Street, the company now spans the world, with branches as far afield as New York, Dubai, Hong Kong, Shanghai and Tokyo. Dialogue will refresh the design, imagery and content for 2019 and beyond, while retaining the values that have made Burgess Magazine so coveted by its exclusive audience.
Zoë Francis-Cox, Agency Director at Dialogue, says: "Burgess is a very exciting brand to work with and I am delighted they selected Dialogue. We won this by demonstrating an understanding of both the Burgess brand and the superyacht world, which is a natural extension of our other work in luxury content marketing. Our project management skills, global focus and attention to detail were also key factors in the win, alongside Dialogue's proven editorial and design excellence."
Craig Nayman, Executive Director at Archant, comments: "With our multi-sector in-house advertising team, we have an unparalleled track record in delivering advertising revenue against content that makes Dialogue a compelling choice for brands that want to monetise their owned content. This was a key consideration for Burgess and I'm delighted that this was recognised by its management team, alongside our award-winning content and design."
Nicci Perides, Head of PR & Communications at Burgess, says: "Archant Dialogue approached us with a compelling proposal that combined a clear understanding of our brand and the luxury sector, along with an impressive design pitch. As a specialist in luxury content, with a global mindset, we are delighted to be working with Dialogue on Burgess Magazine."
Source: Archant Dialogue