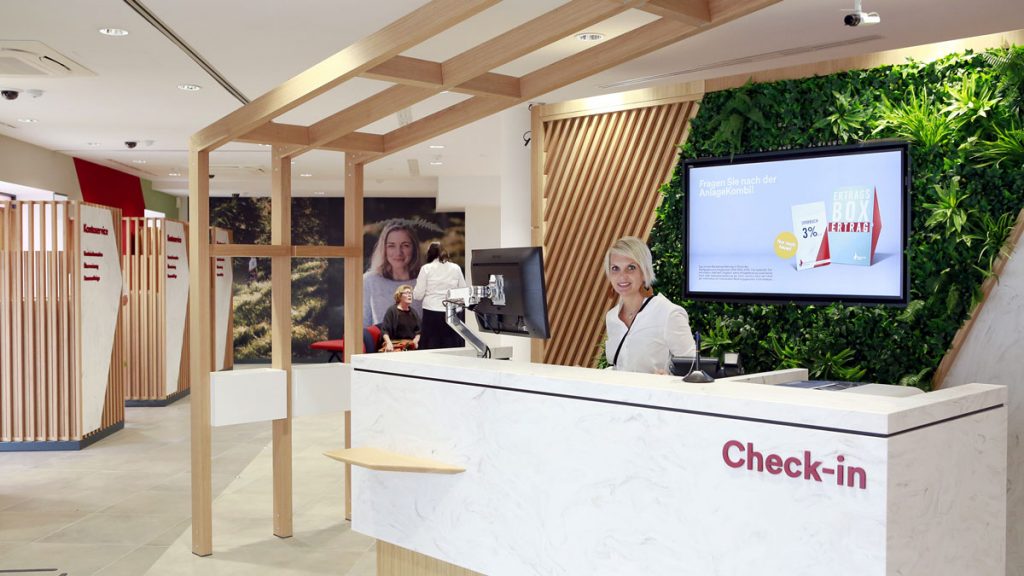 Leading London-based international branding and interior design agency I-AM have collaborated closely with BAWAG P.S.K. to transform their branch network. The first iteration of the new concept can now be seen at the pilot branch in Mödling, which opened recently.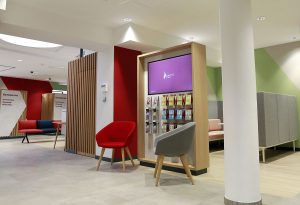 Having been partnered with Austrian logistics and postal service provider Post for several years, an agreement with Austrian Post was signed at the beginning of 2018 on an accelerated wind-down of the partnership, working towards a materially complete separation by year-end 2019, twelve months earlier than expected.
This posed the challenge for BAWAG P.S.K. to redefine the use of space in the majority of their bank branches after Post's departure. BAWAG P.S.K. have taken this opportunity to strategically transform up to hundred branches across Austria.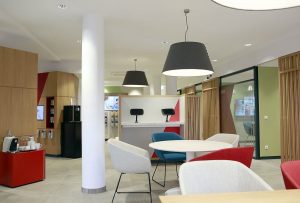 Their branch network will be entirely remodelled in line with I-AM's network strategy, to offer customers first-in-class financial advice and comprehensive banking expertise that responds to well documented, considerable changes in banking in recent years.
I-AM collaborated closely with the core project team, consulting BAWAG P.S.K. head office, branch staff and customers along the journey, to create the 'branch network of the future,' addressing the everyday needs of their loyal, 2.5 million strong customer base, and also to improve the integration of their online services.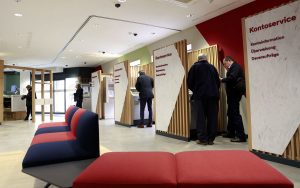 A key component of BAWAG P.S.K.'s brief to I-AM was to provide differentiation to local, national and international banks in highly competitive market, whilst creating a welcoming environment where customers feel at home, facilitating strong relationships with its existing clientele and attracting new customers.
The transformation project began with an in-depth research and investigation phase, consisting of customer profiling, customer journey workshops, format strategy, stakeholder interviews and desk research.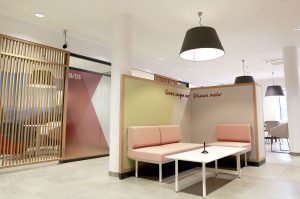 From this basis I-AM developed the 'Distinctly BAWAG P.S.K.' concept, providing a social, welcoming, flexible branch design across three formats – Flagship, Advice Centre and Kiosk – all characterised by a sense of natural harmony, strength and stability, fitting with BAWAG P.S.K.'s unmistakably Austrian brand values. 3,000 BAWAG P.S.K. customers and staff were consulted on the concept design, contributing ideas and suggestions to ensure the new network strategy works for them.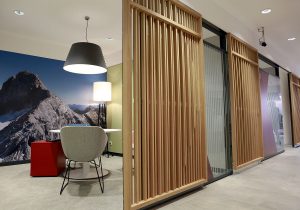 Jon Blakeney, MD, I-AM commented: "It's been an absolute pleasure working alongside the BAWAG P.S.K. team over the last year. I think this new agile approach to branch design will help them move ahead of their competition over the coming years. The new Advice Centres that we have created will put the focus back where customers really want it, not on fancy in-branch technology but on great face to face advice and learning about how to get the best from digital banking."
The first format to be implemented by BAWAG P.S.K and I-AM is the Mödling Advice Centre branch, opened on the 29th of October, with more branches due for rollout in early 2019.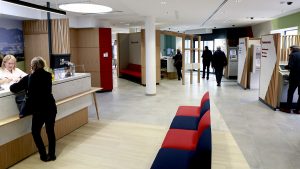 In the Mödling branch customers are initially drawn to the impactful welcome desk, an inviting centre point surrounded by a timber pergola and planting, from which they are directed to their particular service need. The space is flexible, fit for various uses focussing on financial advice – from private sound proofed meeting rooms, to small seating areas for waiting, or for casual one-on-one conversations with advisors over a coffee.
Group tutorials, talks and events such as the 'Digital Learning Hour' can be hosted at the 8 person, light and airy community table at the front of the branch. With self-service ATM's located in small enclosure for privacy and accessible 24-7, along with the integration of digital services throughout the branch, a multitude of customer needs and missions are met.
Stefan Winkler, Head of Network Transformation, BAWAG P.S.K. said: "We wanted to transform ourselves to be different. The expert guidance from I-AM provided us with a new level of experience to position our branches for customers financial wellbeing."
Source: I-AM