The latest film from The Sweet Shop's director Ben Dawkins showcases the perfect line-up of Real Madrid Galacticos and the club's new white on white kit in pure, crisp moments of slow motion action, full of grit, sweat and heaps of style. The online piece for was created by Adam Fish, Matthew Carter and Jonathan Wedlake at Iris Worldwide, and has racked up over a million hits a day on Facebook since it was launched this week.
Filming on location at the club's training centre in Spain, with each player available for separate 15 minute time slots and shooting on the Phantom high-speed camera posed a real challenge for the team. Forced to work quickly yet meticulously, creating something that would appear flawless and smooth in a frenetic environment, this wasn't one for the faint-hearted.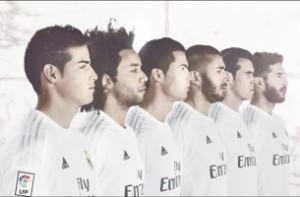 "We were extremely lucky to have so many experienced and talented people collaborating on this who still had the drive and passion needed to continue delivering when plans change and time is running away," said Dawkins.
"Our DOP Tim Maurice-Jones was exceptional, delivering brilliant images and never tiring despite the complexities of the shoot." Electric Theatre's Aubrey Woodiwiss and Urick Van Impe, and James Rosen at Final Cut, crafted and polished the slow-motion moments into a beautiful final film.