Strategist Nick Docherty takes on the role as Head of Strategy at BETC London. He is a strategist with nearly twenty years' experience and has contributed to some of the world's most effective, awarded campaigns, including iconic work for Dove, Audi, Corona, Booking.com and Heineken (Cannes Effectiveness Grand Prix).
Nick joins from a global leadership position at Wieden + Kennedy New York and in his new role at BETC London, Nick will join Chief Creative Officer and Partner Rosie Bardales, and Managing Director Andrew Kay to work on the agency's roster of clients, including Rimmel, Swatch and Cow and Gate. Nick will play an important part in shaping the future of the agency, where he will bring his dynamism and expertise to both existing accounts and pitches.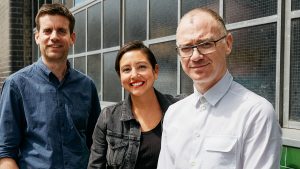 The appointment of Nick is an important strategic move for the global BETC network , which has seen a strong year with organic growth at 8% in 2017 and a CAGR of >7% over the past 5 years. Last year's revenue for the group was 150 m€. The BETC group is further developing collaboration between the agencies and an example of this was the win of the COTY account by a joint venture between BETC London and BETC Paris.
Nick joined the industry through Ogilvy, worked to change behaviour for good at Leo Burnett, embraced the sharp end of creativity at W+K Amsterdam and then moved across the Atlantic for a global leadership position at W+K New York. In that role, he's been busy building integrated strategy teams across the Wieden + Kennedy network for brands such as Corona and Bud Light, marrying traditional planning skills with digital strategy, communications planning, social influence and community management to find new ways of developing disruptive content and connection.
Source: BETC London