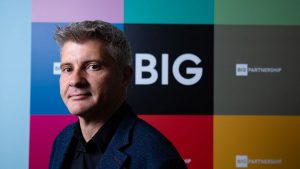 Marketing agency BIG Partnership has appointed Steven Hill to the new role of creative director, bringing heavyweight experience with some of the country's most high-profile brands.
Steven has developed strategies for leading brands including Kraft Heinz, Highland Spring, Tennent's, the Famous Grouse and Royal Bank of Scotland. He has also led hard-hitting public sector creative campaigns for the NHS and Scottish Government.
He joins the agency at a time of significant growth after BIG reported a record increase in turnover of £1.4 million to £8.8 million which resulted in a £250,000 bonus pot shared by its 107 people.
Steven will work across the agency's offices in Glasgow, Manchester, Edinburgh, Aberdeen, Dunfermline and Dundee to strengthen brand identities and devise marketing strategies that deliver measurable impacts. BIG supports over 300 brands across the B2B and consumer sectors.
Allan Barr, director and head of digital and marketing at BIG said: "Steven's appointment adds a powerhouse of creative weight to our branding strategies and creative campaigns. His ideas and experience are sought after in the UK and beyond. Working closely with our design and digital teams, clients will benefit from Steven's well considered creative strategies, brought to life in the most imaginative ways to trigger a desired response."
BIG recently strengthened its creative offering with the appointment of Stephen Noble as content director who will work closely with Steven to produce evocative brand stories for clients.
As well as consultancy projects, Steven previously spent eight years as creative director at London and Edinburgh agency Multiply and was also design director at The Gate.
Steven Hill said: "It's one thing to create great things, but without a cohesive strategy a client's products or services can easily be lost. BIG is ambitious, works with interesting and diverse clients and there's a real buzz here about finding new ways to deliver results. I'm looking forward to getting stuck into creating campaigns that deliver a punch for this exciting mix of brands."
Source: BIG Partnership