Birds Eye Fish Fingers is launching an online film to show support for mums and dads around Britain to celebrate the sometimes-thankless parenting moments they face, and to stand with them in #Solidaritea.
Birds Eye's film features a group of mums – the so called 'fish finger five' – who originally came together to support their parenting choices and stand in #solidaritea. The film celebrates the positive roles that these women play in supporting the honest views of parenting on social media, which recently came into negative focus in an article in the Daily Mail that berated mums around the UK for being 'slummy mummies' because of what they say on social media about being a parent.
The film, created by Recipe, features our parents, amongst them, the 'fish finger five' standing outside their homes with an emotive monologue supporting the daily challenges mums and dads face being a parent: "For every 5am wake up. For every Peppa Pig meltdown. For every spelt out swear word. For every "I want daddy". For every Gin and Tonic. For every smile. For every fish finger tea".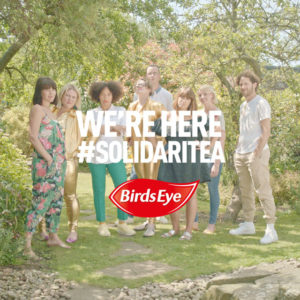 The 'fish finger five' are mums such as Clemmie Telford, Katie Kirby, Steph Douglas, Helen Thorn and Ellie Gibson – all who have stood up proudly in #solidaritea, supporting fish finger feeding mums.
Rebecca Nascimento, General Marketing Manager at Birds Eye said: "Being a parent is one of the greatest joys in life, but we know mums and dads have a lot on their plates so they should be celebrated for the challenges they face each day We're proud that our food provides quick, convenient and nutritious ways to feed families up and down the Country, making lives a little easier. We wanted to back British mums and dads by letting them know that we're here for them, whenever they need us, and stand proudly in #solidaritea."
The film went live on Facebook, Instagram and Twitter on 5th July.
Credits:
Agency: Recipe
ECD: Dan Jacobs
Director: Michael O'Kelly
Editor: Alex Abdolwahadi
Graphics: Alanna Kos
Content Manager: Richard Green
Account Director: Misha Mantel
Source: Recipe