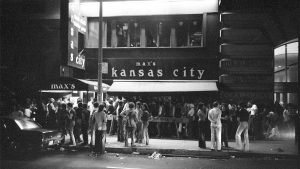 Bombay Sapphire announce a new global partnership with Frieze Art Fairs, that will see two brands join forces on a shared mission of celebrating and inspiring creativity around the world.
As part of Bombay's mission to 'Stir Creativity', Frieze and Bombay Sapphire will co-host a series of happenings at the Art Fairs, to take place in Los Angeles, New York and London this year, kicking off this week at the inaugural Frieze LA event this February. The partnership will create experiences that will not only entertain, but also inspire and enable the creativity of guests to the events.
Bombay Sapphire are opening its doors to the first 'happening' at Frieze LA. In a space that will pay homage to the classic 'dive bar' – a cultural hotbed where innumerable creatives have gathered to conceive and exchange some of history's most ground-breaking ideas – Bombay Sapphire will reimagine the iconic New York City hang-out, Max's Kansas City, a place renowned for its creative clientele, from world famous musicians such as David Bowie, to notorious artists like expressionist Willem de Kooning.
The bar will house an immersive pop-up exhibition in partnership with the non-profit organisation, The Max's Kansas City Project, founded by Yvonne Sewall (ex-wife of the late MKC founder, Mickey Ruskin). During the exhibition fairgoers will be able to purchase art donated by Max's original 'Alumni'. All proceeds from the sales made during the event to go towards providing financial relief for creative industries.
Guests to the bar can enjoy a curated menu of creative cocktails including a Cherry Vanilla Mule, American Boilermaker and Jayne County Punch. All of the cocktails are inspired by the bar menu at the original Max's Bar and will showcase Bombay Sapphire's uniquely balanced flavour profile as the perfect base for creativity in cocktail serves.
"We believe that everyone has the capacity to be creative and creativity can truly come from anywhere. That's why we are incredibly proud to be joining forces with Frieze, visiting cities such as LA, New York and London in a celebration of creative self-expression. Our first event at Frieze LA will be a creative showcase from the worlds of cocktail mixology, art, film and music, brought together in the Bombay Sapphire bar – we cannot wait to open the doors to the guests of this year's first Frieze fair," says Natasha Curtin, Global VP at Bombay Sapphire.
Part of the LA leg of the partnership is also an exclusive evening with Baz Luhrmann, co-hosted by Bombay Sapphire for a limited number of VIP guests who will join the filmmaker under the stars at the Paramount Studios Production Park – the epicenter of Hollywood film history.
"Frieze fairs have been supporting the arts and culture community for more than 15 years and partners who share the same ethos is essential. Bombay Sapphire's history of creative engagement make it a great fit for Frieze. It's incredibly exciting to see the brand recreate such an iconic cultural landmark such as Max's Kansas City at the inaugural Frieze Los Angeles. We look forward to collaborating in London and New York to create more unmissable experiences in interesting spaces," says Matthew Holt, Frieze Commercial Director.
Tickets for Frieze LA are subject to availability and are priced from $21 (for the curated program only). These can be purchased by visiting here. For more information and tickets to events in New York (2nd-5th May) and London (3rd – 6th October), visit www.frieze.com/fairs/frieze-london and www.frieze.com/fairs/frieze-new-york.
Source: Frieze Art Fairs