Cheil Worldwide Ukraine has created a heartwarming campaign for Samsung's new Space Max fridge.
The ad, which features the strapline "More space than you can imagine," shows a boy counting down the days until his father returns home from work on a polar station.
At the end of a month-long wait, the father returns to find his son has created his own polar world inside the fridge, featuring paper animals, machines and a paper version of himself. A "Welcome home!" message has also been woven into the scene.
The ad uses the insight that many people in the Ukraine have to be smart with storage due to kitchen size. The Samsung Space Max fits perfectly into the place of your old refrigerator, but can store many more goods. SpaceMax Technology has also made the walls thinner and increased the inner capacity without compromising energy efficiency.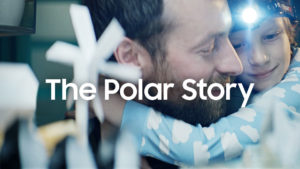 Olga Kravchuk, HA Marketing Manager, Samsung Electronics, Ukraine, said: "In Samsung we truly believe that technology can help people to be more creative.With our new film, 'The Polar Story', Samsung describes how SpaceMax technology provides more space than it is possible to imagine: sufficient even for the creation of an imaginative polar landscape. Innovation and creative imagination go together in the modern world".
Vladyslava Denys, Creative Director, Cheil Worldwide Ukraine, said: "Samsung's technology is designed to break barriers to make people's lives better. In this film we have continued developing the approach of emotional storytelling for Samsung in the home appliance category. People love stories. We wanted not only to tell the technology story but to do it in a way that touches people's hearts, too."
Credits:
Creative Director: Vladyslava Denys
Art Director of the project: Alessandro Falcone
Art Director of product scenes: Eugene Ovchar
Copywriter: Olexander Korzh
Account Director: Olexiy Polischuk
President: Irina Solovyova
Photographer: Vladimir Tochanenko
Director/ Production Co: Max Ksjonda /DGTL RLGN
Producer: Vitaliy Sheremetyev
Post Production: Coffee Post
Sound Design: Propeller Studio
DoP: Lena Chekhovsky
Source: Cheil Worldwide