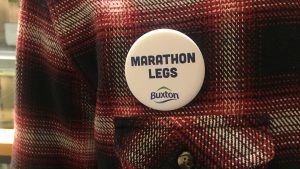 As part of its sponsorship of the Virgin Money London Marathon and to show its support for the runners taking part, Buxton has created a "Marathon Legs" badge.
Created by RAPP UK, the baby-on-board style badges are designed to celebrate and recognise the runner's achievement and encourage commuters to offer a seat to tired marathon runners the day after the race. Badges will be handed out at the Virgin Money London Marathon Expo on 20th and 21st April, ready for all marathon running commuters to wear on Monday when their legs are at their weakest and the post-race adrenaline has faded.
The badges, which were supported by press ads on April 16, are part of Buxton's #GoBigTogether campaign to support the have-a-go-heroes. Running across social channels, the campaign has taken insights directly from previous runners and supporters.
The missives include real quotes reflecting the brutal honesty of marathon training such as "smiling through the 48,463,373 blisters" and "it was cold, muddy and wet but I did it". With music being a core topic of conversation for marathon runners, Buxton also created a hydration themed marathon playlist which is accessible via Spotify.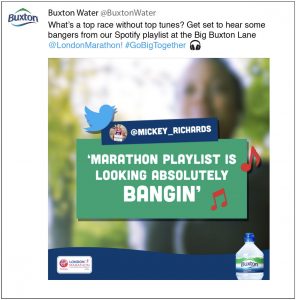 The campaign launches this week and on Marathon day itself, Buxton will be wishing everyone good luck and congratulations with Twitter First View ads from morning and throughout the day until early evening, when the most tired of legs have finished their epic race.
Marie-Laure Danican – Local Brand Lead at Buxton said: "Following on from last year's successful sponsorship, this campaign brings to life our ongoing support to the runners in every step of their journey – from their training to the actual event, and of course post marathon with the Marathon Legs badge. As hard as it is to train, raise money for and run the Virgin Money London Marathon, the commute the morning after can be just as tough – we hope Buxton can help to save a few wobbly legs on the way into work on Monday."
Ronak Mohktassi, Strategist at RAPP UK added: "This campaign captures the true essence of 'GoBigTogether' and the badges were the perfect extension of the thought – a fun way to acknowledge the runners' achievement and supporting them beyond the actual day itself."
Source: RAPP UK