Canon Europe in collaboration with VCCP has unveiled its latest and most audacious brand campaign yet. The new campaign sees the world's leading imaging brand challenge elite Parkour athletes Storror to cross continents, from Europe into Asia by any means possible.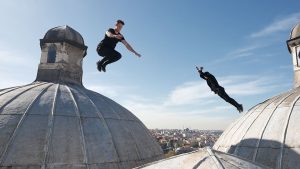 Filmed in the historic city of Istanbul, the campaign is designed to inspire Canon Europe's customers to try a new experience for the "FIRST" time and capture it on a Canon. Canon Europe's fully integrated campaign will run across Europe from Monday, 25th June in a variety of channels including: Print, Digital, Social, PR, VOD, CRM and In-store/retail.
Canon Europe challenged the seven-strong group to attempt a world first, in this case the Parkour athletes turned their cameras on themselves and filmed their adventure free-running across a series of landmarks including Istanbul's Galata Bridge, the domed rooftops near Süleymaniye, culminating with a leap onto the roof of a passenger ferry carrying them across the Bosphorus Strait, to the cargo seaport of Haydarpaşa on the Asian side of the city, to successfully complete the challenge.
The challenge was a remarkable feat of human endurance, skill and agility which aims to inspire others to try something new. Using moving vehicles, trains and boats as stepping stones, Storror's adrenaline fuelled adventure was filmed using a selection of Canon equipment, such as the award-winning EOS M50, EOS 5D Mark IV and a EOS C200 cinema camera.
On location in Istanbul with Storror was Samo Vidic, a highly acclaimed sports photographer and Canon ambassador. Samo Vidic used a selection of Canon equipment to photograph and capture Storror's first, such as the EOS 1DX Mk II.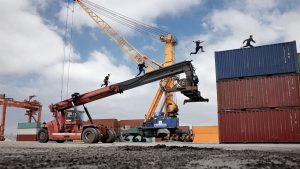 Continuing with Canon Europe's successful Live For The Story brand proposition, the company hopes the adrenaline-fuelled video resonates with its customers to try a new experience for the first time and capture it on a Canon camera.
Andrew Peake, CEO, VCCP added: "We're delighted to launch Canon Europe's thrilling new campaign featuring Storror, a team of influencers who accomplished a breathtaking World First by crossing two continents using Parkour. This was an exciting brief from Canon Europe, demanding a fully-integrated agency response, and Storror's adrenaline-fuelled content rolling out across multiple channels, intends to inspire people all over the world to capture their own 'Firsts' this summer."
Source: VCCP