Let your senses guide you with this fully integrated campaign
Cathay Pacific today launched a fully integrated campaign to announce its enhanced Business Class experience that offers a suite of thoughtfully chosen enhancements to the service with soft products and culinary offerings. These enrichments are designed to offer passengers a more holistic, sensory experience that begins from the moment they begin their journey.
This new campaign, created by VCCP, is called "Let Your Senses Guide You" and is about travel, at its heart, being a sensory experience, whether passengers are flying for business or for leisure.
The campaign first takes customers through all the sensory experiences one can enjoy during travel, whether it's trying new food, finding relaxation somewhere you've never been before or feeling the rush of exploring a completely different culture. It then leads back to the start of their journey and the new elevated inflight experience – from the delicate Hong Kong Flavours, to our exclusive Bamford amenities, 400-thread-count premium bedding, and even our engaging restaurant-style dining service – showcasing how all the exciting sensations enjoyed by travellers actually begin when they fly with Cathay Pacific.
This fully integrated campaign will include the launch video and specific communication on the more tangible aspects of the enhancement that will be rolled out gradually via digital, print and social media globally.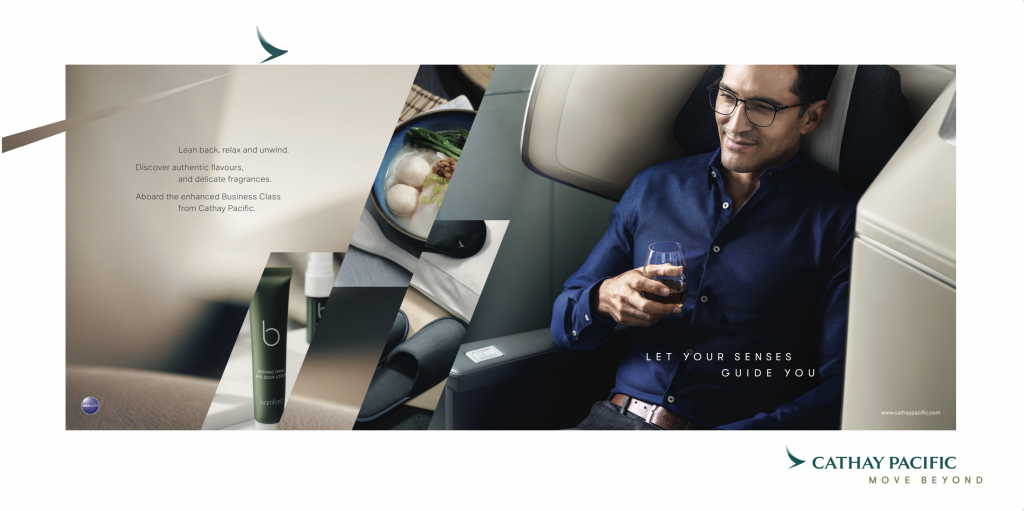 Edward Bell, General Manager of Brand, Insights and Marketing Communications at Cathay Pacific said: "This campaign is about how Cathay Pacific has moved beyond expectations to delight our customers with an enhanced Business Class offering that has been
thoughtfully selected to create a holistic sensory experience. At Cathay Pacific, we believe each journey doesn't just begin once you arrive at your destination. Instead, we feel these sensory experiences should be an intrinsic part of every aspect of the journey, right from the
moment you step onboard."
Andrew Hook, Executive Creative Director APAC at VCCP added: "For this campaign, we set out to try to challenge the standard Business Class codes. Rather than focusing on the archetypal corporate road warrior, the sensory approach was designed as a fresh take on the category – bridging the experiences of both leisure and business travellers, while delivering on the new Move Beyond brand promise.
The Cathay Pacific team gave us a lot of room and support to create something really expansive and expressive for the brand, and we are very proud of the result."
VCCP was appointed by Cathay Pacific as the lead global strategic and creative agency in 2018 and this is the first major campaign for the airline since the launch of "Move Beyond" earlier this year.
Soure: VCCP