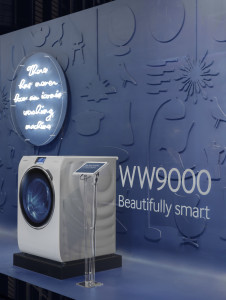 Cheil UK has created an in-store campaign which will see Samsung take over John Lewis windows to launch its new 'iconic' WW9000 washing machine.
The WW9000 has been designed to shake up the category and is positioned as the pinnacle of 'Beautifully Smart' washing machine design in a retail campaign devised by Cheil UK.
Working with John Lewis, Samsung will take over a single window display in nine of the retailer's flagship shops, including a six metre display in Peter Jones in Chelsea from this week. The displays will be Samsung-branded with the WW9000 taking centre stage against a blue 3D backdrop of iconic household products, accompanied by the caption: 'There has never been an iconic washing machine'.
The campaign will continue with in-run and A-Site displays in over 20 John Lewis branches across the UK. Cheil UK is responsible for the campaign concept, creative thought, window display design and creation of all in-store materials.
Creative draws inspiration from industrial designer, Dieter Rams' principles, which Cheil UK has reinvented as '10 Principles of Smart Design' – each of which apply to the WW9000. The Principles include: Connected; Intuitive; Simple; Efficient; Ease; Quiet; Fast; Quality; Beauty; Streamlined.
Lana Sanleandro, Head of Marketing, Home Appliances, Samsung UK, said: "In almost every category there is one hugely iconic product, but that hasn't been true of the washing machine category – until now. The WW9000 brings much needed innovation, design and performance to the category, and will re-invent the way shoppers buy washing machines. The launch of the WW9000 is about putting it centre stage and therefore front of mind for customers to see and experience."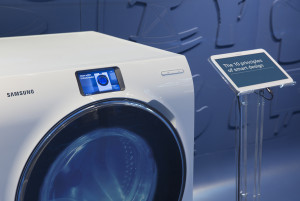 Peter Martin, head of shopper marketing & retail experience at Cheil UK, added: "Samsung is known for its innovative products and the WW9000 doesn't disappoint – it's a truly stunning piece of technology. 'Beautifully Smart' nods to the intelligent design of the product while the creative thought, '10 principles of smart design', highlights the unique capabilities of the WW9000.
"Taking over the window displays of an iconic British retailer for an iconic product felt like the ideal platform through which to launch the WW9000. We kept the window display design simple opting for a bold backdrop to contrast with the white, and equally bold, WW9000."
The WW9000 is now on sale exclusively in John Lewis shops for four weeks.