Constantly bringing in the wave of evolution right since its inception in 1952, Cinthol has always strived to give its consumers the best in the personal grooming space. Be it with the first vegetable oil based deodorising, complexion soap to the more recently launched Cool menthol-based soap and insta-deo based germ protection soap, Cinthol Confidence+.
Cinthol, in its endeavour to remain relevant to youth by offering them innovative products, is all set to launch the Cinthol DeoStick – a revolutionary product in the space of deodorants. Cinthol DeoStick is a cream based deo which is easy to use, has great fragrances that lasts 3X longer than ordinary deosprays and is pocket friendly too. The DeoStick is available in six different fragrances, three for men and three for women respectively. The brand's philosophy of continuous reinvention, with this launch, is expecting to redefine the codes of deodorant category which is marked by expensive sprays, with starting point being Rs. 100+ for female deodorants and 180+ for male deodorants.
The TVC created by Team Creativeland, showcases the DeoStick which is unlike any other deodorant and its advertisements. The TVC DeoReborn sets out to showcase how Cinthol has reinvented the concept of using a deodorant. DeoReborn is the story of how and why the deodorant was reborn into its new avatar in a quirky manner along with a set of laterally evolved visuals. Cinthol DeoStick is a cream based deo and not a spray, which is gentle on skin and lasts 3 times longer than any other ordinary deo.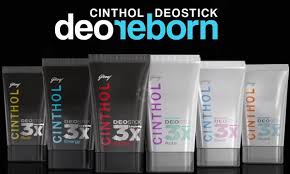 The TVC also showcases product's new application format and the different stylized ways in which it can be used. With launch of the TVC 'DeoReborn', Cinthol has totally redefined the concept of deodorants in India.
Commenting on the campaign, Sunil Kataria, Business Head India & SAARC, GCPL said, "We constantly strive to give our consumers the best of personal care products and bridge the gap between consumer needs and what is available in the market. Cinthol has always been innovating to cater to the changing consumer needs of the youth. With the summer season just around the corner, we have launched Cinthol Deo Stick , a unique creme based deodorant that lasts genuinely long, is safe on skin and comes at an affordable price of Rs 69/-. We have reinvented the deo space with this revolutionary product which will appeal to our consumer's and the TVC very aptly showcases the concept of DeoReborn."
Commenting on the TVC, Sajan Raj Kurup, Founder and Creative Chairman, Creativeland Asia said, "With Cinthol DeoStick, we weren't just launching a new product, but a whole new category. So, there were quite a few boxes to tick, while still making sure that it was in the Cinthol world we've been defining over the last few years. We believe the product has the potential to not just increase deo penetration in the market, but also potentially reposition the category in people's minds."