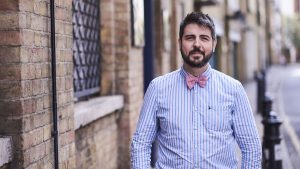 Collider has appointed Lee Menzies-Pearson as Senior Strategist as the agency continues to broaden its talent base following a period of growth. In this newly created role, Lee will report into Charlotte Bunyan, Head of Strategy.
Lee joins Collider from Harvard, a marketing and PR agency, and will be responsible for providing strategic input across Collider's portfolio of clients including De Beers, Sharp and VW. He gained extensive experience in digital, brand and creative planning at agencies including JWT and Momentum Worldwide, where he worked across a wide range of industries and sectors, both in the UK and globally.
Charlotte Bunyan, Head of Strategy commented; "It's fantastic to have someone with Lee's experience and talent join the agency. He is a valuable addition to the team during this pivotal time in our growth."
Lee commented: "I'm hugely excited to be joining such a diverse and talented team, bringing together great creative and strategic thinking to produce outstanding work for our clients."
Lee is also a core member of PrideAM, a volunteer not for profit organisation aimed at promoting LGBT+ diversity within the advertising industry. Chaired by Mark Runacus (DMA), PrideAM is the world's first LGBT+ lobbying group for the ad industry and undertakes research, events and training for clients and agencies on the importance of LGBT+ diversity.
Source: Collider