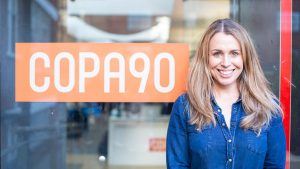 COPA90 has boosted its senior team by hiring Natalie Broad to the newly-created role of Partnership & Media Sales Director. Broad will be leading the agency-facing sales team and working on partnerships. She reports ultimately to James Kirkham, Chief Business Officer.
Broad is the former Partnerships Manager at global sports media company Perform Group and has a decade of experience in the media industry. During her time at Perform Group she headed up partnerships with brands including Unilever and Vodafone.
James Kirkham COPA90 Chief Business Officer, said: "Natalie is a brilliant and exciting talent, perfect for COPA90 this year. As our media product becomes increasingly sophisticated and proved-out with some of the world's biggest brands, Natalie will be able to ensure our relationships with agencies and brands direct continue to be delivered at the highest level."
Natalie Broad added: "COPA90 have just been named one of the world's most innovative businesses, and work on incredible brands from Nike and Pepsi to Uber and more. It is exciting to now be joining them on this next chapter of their story."
Broad left Perform Group in 2018 to join online publishing platform Playbuzz as Sales Director, leading the business for Publicis. She has also worked at Mode Media (formerly Glam Media) as Agency Sales Manager, having begun her career at youth and entertainment specialist, MJ Media.
This latest appointment follows the hiring of Miranda Nagalingam as COPA90's Head of Talent Relations from Comic Relief where she headed up the Artists Relations team; the arrival of Robert Rodriguez as Chief Growth Office, based in Los Angeles, from Facebook where he was Head of Football; and of Rebecca (Bex) Smith, COPA90's first Global Executive Director of the Women's Game.
Smith is a 2-times Olympian and 2-times World Cup finalist and previously FIFA's Manager of Competitions & Events and Strategic Planning for Women's Football.
Source: COPA90