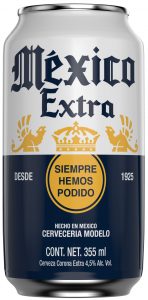 On September 19th, Mexico was rocked by a 7.1 magnitude earthquake, killing hundreds of people and injuring thousands more. In the wake of the disaster, government relief support didn't come as urgently as needed so citizens and volunteer emergency workers banded together for rescue and reconstruction efforts.
As the nation is their birthplace, Corona Mexico wanted to find ways to show solidarity and support for both for the devastated communities as well as honour Mexico's collaborative spirit in the face of adversity.
Since the earthquake, Corona has committed to donating the proceeds from the sale of three million beer cans rebranded as "Mexico Extra" (instead of "Corona Extra") to help reconstruction efforts. The limited edition can also boldly states "Siempre Hemos Podido" which in English translates to "We Have Always Been Able".
The beer brand has also created a website, where people can learn about tangible ways to help the revitalisation efforts such as donating or volunteering.
In addition to the financial donation, Corona Mexico has partnered with famous Mexican musicians to create a song that symbolises Mexico's strength called "This Spirit". The song is a collaboration between La Banda Baston, Sotomayor, and producer Eduardo Cabra to immortalise the human spirit that has united Mexico and is currently available to download on iTunes, Spotify, Google Play and YouTube.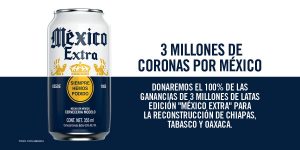 Since launching just the lyric video in December the song has had over 8 million views.
The campaign was devised by Corona Mexico's creative agency of record, Leo Burnett Mexico.
"At Corona we are challenging the way marketing is done, developing with Leo Burnett a new style of branded of entertainment. Through music and audiovisual content we hope to immortalize a spirit of strength and union that Mexicans lived through after the massive earthquake. "Este espíritu" is a hymn that Corona would like to share with the land that let it be born, because as Mexicans always go forward," said Lucia Olvera, Director of Communications at Corona Mexico.
Source: Leo Burnett Mexico