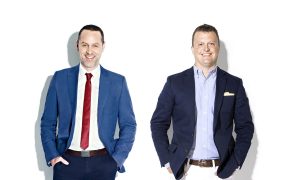 Cossette has named Daniel Shearer and Louis Duchesne as President, Ontario and West, and President, Quebec and East, respectively.
"We're creating presidencies to adapt our structure to our rapid growth of the past three years" said Mélanie Dunn, Chief Executive Officer at Cossette. "Daniel and Louis have played key roles throughout one of the biggest growth periods in Cossette history. Their experience and accomplishments put them in an ideal position to help me lead our team as we continue our agency's evolution."  
In their new roles, both Shearer and Duchesne, along with Chief Creative Officers Peter Ignazi and Carlos Moreno, will support Cossette's vision to attract the best talent, innovate to bring clients the most creative and unique ideas, and accelerate the agency's international expansion by building on recent global client wins. 
Shearer joined Cossette in 2016 from TAXI 2 in Toronto where he was General Manager. Dynamic and performance-driven with a track record of inspiring creative cross-disciplinary teams, Shearer took the lead in Ontario and Western Canada and doubled the business in Toronto in three years. He's a champion of integration and the total brand experience, as well as people strategy and operational models, and will support Dunn in designing Cossette's global strategy in those areas.
Shearer says, "I feel very lucky to be at Cossette – with our world-class people, ambitious client partners, and incredible integrated bench – and to have been a part of the momentum we've created in the last few years. I'm thrilled to be partnering with Louis to continue our expansion." 
Duchesne has been with Cossette for more than 12 years and is widely recognized for his digital expertise, innovation and deep client partnerships. In his current role, he leads our  Quebec and Atlantic Canada operations. Going forward, he will play a key role in designing and helping drive Cossette's global growth and client strategies.
"Since the beginning, entrepreneurship and experimentation have been at the heart of Cossette's culture," said Duchesne. "I'm excited to be building on this legacy, to keep reinventing ourselves for our clients from coast to coast and beyond borders. I'm honoured to work with incredibly talented people every day, and in particular, to team up with Daniel to continue building on Cossette's historic journey."
Source: Cossette