Costa Coffee has teamed up with premium sneaker maker Artisan Lab to create an exclusive range of coffee-dyed sneakers to celebrate National Espresso Day (which this year fell yesterday on Wednesday 23 November). Inspired by the viral TikTok and Instagram trend of dyeing sneakers in coffee, Costa Coffee has put a sustainable, desirable and premium twist on this formula to shine a light on their signature Mocha Italia Blend.
The handmade Italian sneakers, dubbed 'The Drip 1', have been hand-dyed using the Mocha Italia blend and 20 exclusive pairs will be given away through a competition running on Costa' Coffee's official TikTok channel. The sneakers will be numbered, and each winner will receive a unique non-fungible token (NFT) which will act as a certificate of authenticity.
Created by independent global digital agency, AnalogFolk London, the 'Costa-Misation' campaign intends to prove that Costa Coffee's Mocha Italia blend tastes as good as it looks and looks as good as it tastes.
Artisan Lab was carefully chosen for their rich Italian heritage and focus on quality, aligning to Costa Coffee's history which saw Sergio and Bruna Costa arrive in London in 1917 with a desire to make great tasting coffee a part of everyday life. The sneakers have been dyed sustainably using grounds of Costa Coffee Mocha Italia coffee. What's more, the bespoke sneakers have been finished with a lace tag created from vegan 'Coffee Leather' from interior textile innovators Organoid.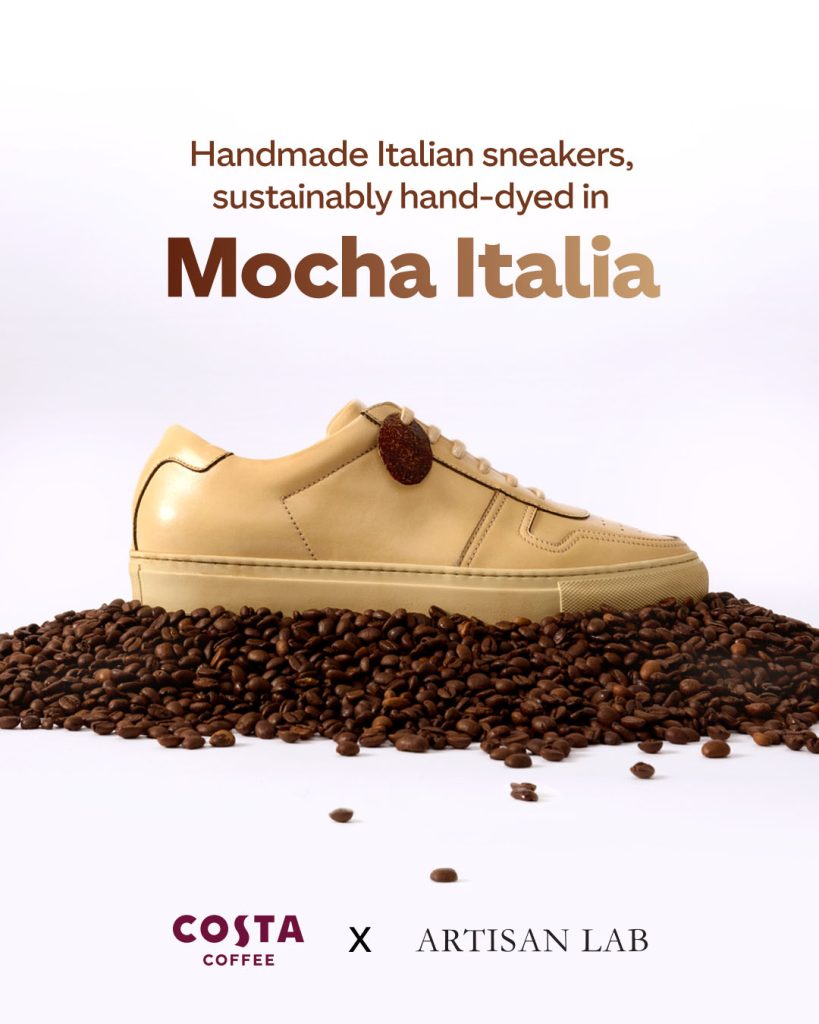 Riccardo Gismondi, Founder and Creative Director at Artisan Lab says: "Italian heritage, premium quality and authenticity are the DNA of Artisan Lab. Sharing the same core values with Costa Coffee, we couldn't be happier to create this amazing collaboration. A perfect celebration of what we both stand for and work hard every day to deliver."
Written and directed by AnalogFolk Senior Creatives Dani Arkless and Alex Wood, the imagery was shot by Jacob McFadden. The campaign will be supported by an accompanying behind the scenes video created exclusively for TikTok outlining the creation process, as well as static posts on Instagram and an exclusive NFT authentication shared by Artisan Lab. The NFTs are minted on the Hedera Blockchain in collaboration with Designbook; a Digital marketplace for certified goods and Artisan Lab's digital partner.
The campaign and competition will run from 23rd November on TikTok for one week where followers can share their size for a chance to win.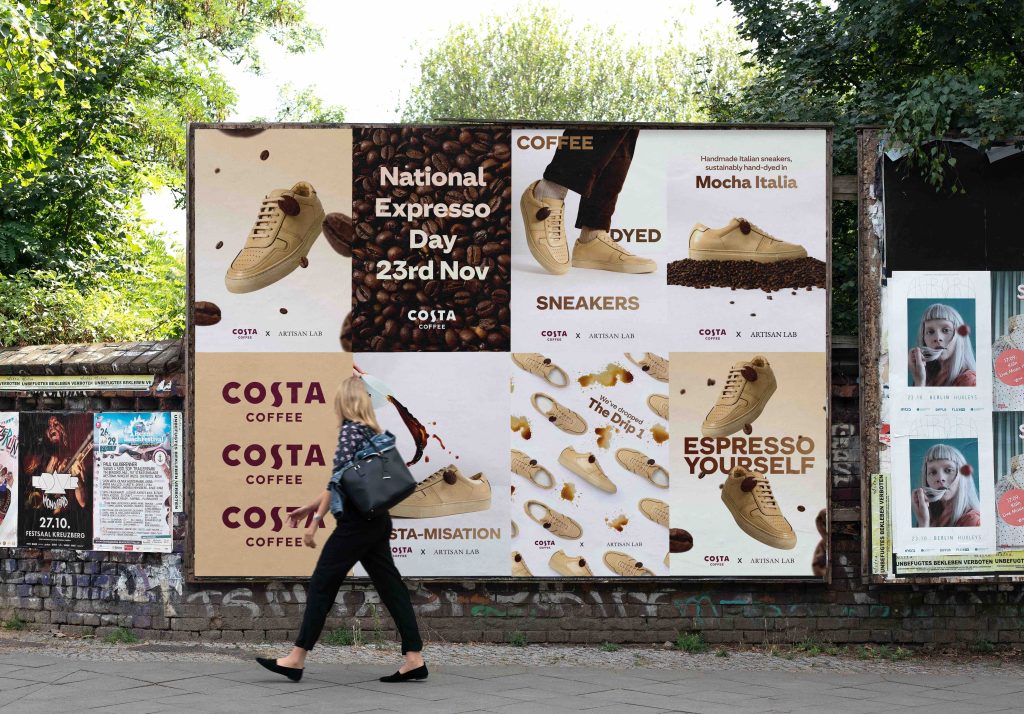 Amandine Fabian, Creative Director at AnalogFolk London said: "We're really proud to have been working on this exciting collaboration. Artisan Lab and Costa Coffee is an unexpected but natural match as two brands that share similar values of quality and craftsmanship. The coffee dip adds an edgy touch to the sneakers that will for sure please the fashion community and brand fans."
Adam Deal, Senior Social Media and Digital Marketing Manager at Costa Coffee said:"We're so excited to be partnering with Artisan Lab on 'TheDrip1'. Using our famous Mocha Italia blend to create these amazing trainers is so interesting and we can't wait to see how the competition performs on Costa Coffee's TikTok account."
To be in for a chance to win one of the 20 pairs of the 'The Drip 1' follow Costa Coffee's official TikTok account, where more information on the competition will be available.
Source: AnalogFolk London