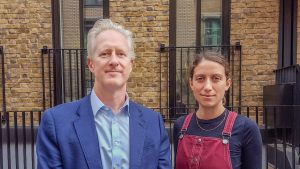 Creative Mentor Network (CMN) has appointed Russ Lidstone, Group CEO of The Creative Engagement Group and former CEO of Havas London, to the position of Chair. Lidstone will perform the non-exec role in addition to his Group CEO role at The Creative Engagement Group.
Lidstone takes up the newly created position as the charity seeks to grow and deliver against its mission to make the creative world of work more diverse and inclusive. As Chair, Lidstone will support Isabel Farchy, the Chief Executive and founder, and CMN's senior leadership team, in delivering the strategy of the organisation as it looks to expand nationally.
CMN is a London-based charity that works directly with schools to connect talented young people from diverse backgrounds with those working in the creative industries. The organisation trains industry professionals as mentors then matches them with young people from low-income backgrounds. The charity's model is designed so that everyone wins: career opportunities for young people; training for employees; and access to diverse talent for creative businesses.
The charity's mission is to enable young people (16-19) who, crucially, lack access to the networks and insights they need to break into the creative industries. It pairs young people in London with creatives from leading brands and agencies, helping to provide access to an industry that might otherwise seem off limits.
Russ Lidstone, Chair CMN, said: "I'm really proud and excited to join Isabel and the Trustees in order to help deliver against their mission of greater inclusivity in the UK's creative industries. All of us in the industry know how critical it is that we broaden access and opportunities for a more diverse talent base. I'm looking forward to working with CMN's stakeholder communities, partner companies, opinion formers, schools, local societies, government and the social sector."
Isabel Farchy CEO CMN, said:  "I'm so pleased Russ has joined the organisation at this exciting time as we look to expand to more cities across the UK. Russ' experience in the creative industries and in non-exec roles in the non-profit sector, means he's uniquely placed to Chair the Board. This is a very exciting time for everyone at CMN."
Set up by former teacher Farchy, CMN's mission is to support diversity in the creative industries through mentoring. It recently featured in Campaign, Creative Review, The Drum, Communications Magazine and It's Nice That.
Source: Creative Mentor Network