To showcase Georgia-Pacific's Sparkle paper towels as a brand that celebrates smart and savvy choices, the Sparkle team has partnered with San Francisco-based creative agency, Cutwater, for its new Make the Bright Choice campaign, which encourages consumers to spend less on every day little messes with Sparkle paper towels.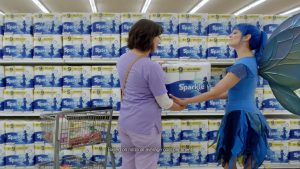 While Sparkle has always prided itself as a smart choice, it's ready to show off its spirited side with a new package design and a re-imaged Sparkle Fairy (designed by Rebecca Weinberg) to celebrate our consumer's bright and savvy choices like not over spending on everyday little messes.
Through this campaign, Cutwater and the Sparkle brand aim to encourage the resourcefulness of sensible consumers in a fun and innovative way, celebrating the brand's loyal audience and driving greater support among other retail customers.
The newly restyled Sparkle Fairy acts as a spirited, witty best friend to consumers, with a sensible and practical outlook. She serves as a symbol to celebrate individuality and assist in spending less per sheet on the mess with the brand's paper towels.
The campaign includes a :30 and :15 TV spot called "Gourmet Chicken Nuggets" which can be viewed below. The spots highlight the ways in which Sparkle paper towels are perfect for small every day messes and why using a premium paper towel for these cleanups is as absurd as ordering chicken nuggets at a fine restaurant. There will also be a second :30 and :15 TV spot called "Paper Clip" that will roll out in May 2018.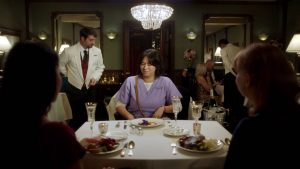 In additional to the TV spots, the campaign will include digital components including search, social, banners and online video.
Nicole Cook, Director of Brand Building at Georgia Pacific said: "We know Sparkle is a smart and practical everyday solution for our consumers. This new campaign celebrates our savvy consumer and the choices she makes every day."
"We're thrilled to be partnering with Sparkle for such a fun and refreshing campaign, giving us the ability to highlight our customers who stand up to every day little messes at an affordable price," said Chuck McBride, Founder and Chief Creative Officer at Cutwater. "Sparkle stands out as a brand that provides quality products and a sensible price for individuals who like to entertain and express themselves in quality ways and we're proud to support their endeavours through the creation and execution of this campaign."
Source: Cutwater