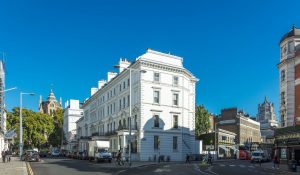 Experience, design and engineering company Dare has been appointed as the sole digital agency for London's new arts space, Cromwell Place, following a competitive pitch, in a process run through Creativebrief.
The agency will work across the entire digital remit for Cromwell Place – a Grade II listed site spread across five buildings in South Kensington – including design and development of its new online platform, and developing its entire membership customer experience journey.
Dare's first brief is to fully redesign and develop Cromwell Place's website. Following the construction of Cromwell Place's members' application process – with the goal to make the experience seamless, ahead of its official opening in Autumn 2019 – Dare will build upon the space's digital member services, creating an online hub where members can book exhibitions, offer integrated ticketing solutions, and make the most of the facilities and services available.
Cromwell Place is the first of its kind: a fully flexible members' organisation for galleries, curators and art professionals to exhibit work. It offers sixteen exhibition rooms, twenty-five private office spaces, four viewing rooms, a club room and a 2,000 sqft secure art storage facility.
Michael Olaye, CEO at Dare, says: "Cromwell Place is an exciting proposition – it gives people all over the world the chance to experience art in a different way, a flexible way. We understood what they wanted: a bespoke hub with easily navigated, user-friendly brand and membership portal. So we showed them solutions, from a digital point of view. Our aim now is to create a truly memorable art experience for both Cromwell Place's members and customers."
Preston Benson, managing director at Cromwell Place, says: "We want to offer a groundbreaking solution for galleries and art professionals seeking a presence in central London. We have the physical means to do so, and Dare is providing the digital know-how to stitch that experience together worldwide."
Source: Dare