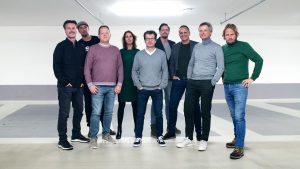 As of 1 January 2019 a completely new agency will come into existence. Its name is 'DDB Unlimited'.
It will open its offices in Amstelveen early next year, integrating the expertise of Databay, DDB & Tribal Amsterdam and Etcetera. In addition, the agency will have its own marketing-intelligence, production and media units.
DDB Unlimited is a new agency entity, built from scratch, to challenge the status quo by delivering high-end creativity, content and media within data-driven parameters. The new agency is built around the distinctive heritage and unique skills of 3 component parts:
The strategic-creative heritage and digital skillset of DDB&Tribal;
The local creative insight and change management skills of Etcetera;
The 15 years of data analytics and precision marketing knowledge of Databay.
These component agencies already have an unmatched heritage of effectiveness, ranking no. 1 and no. 2 in the Dutch effectiveness leaderboard. Their combined total of 80 Effies is over three times that of any existing Dutch agency.
The new agency's clients include a wide mix of local and international clients including KLM, Leaseplan, adidas, Mars, Ben, Wolford, NVM, McDonald's, Hak, Kruidvat, Centraal Beheer, Unilever, Toyota, Takeaway.com, Holland Casino, Menzis, Exxon Mobil and PMI.
Frank Huiberts, founder of Databay and CEO at DDB Unlimited said: "Everyone is talking about it: technology and data and that "we should be using them more". What we have now done is to develop – from scratch – a completely new agency concept, one based on data and performance. An agency with a unique mix of experts on board."
Dick van der Lecq, Managing Director added: "This agency exists because it is what advertisers are asking for. The extensive research we conducted amongst CEOs and CMOs showed that there is a great need for a partner who can help them get a much firmer grip on their customers and on delivering results."
Lawrence du Pre, Managing Director said: "The needs of national and international clients are increasingly the same. They're all crying out for a completely new agency model. We're not afraid to throw out the old thinking and legacy systems to deliver the future."
Joris Kuipers, ECD commented: "Of course we're continuing to build on our great strength: iconic branding. We are standing on the foundation of the DDB tradition, and we'll remain loyal to it."
Kees van Dorp, Director Precision Marketing added: "If we want to provide real grip to advertisers, we have to be champions of effective delivery: the domain of precision marketing. We do this by combining data, in-house media and production."
Ben Imhoff, Brand Format Lead commented: "The Effie mindset has always been in our companies' DNA. The new agency lets us take this expertise to the next level."
Sander auf dem Brinke, Director Data & Analytics said: "Our clients have more than enough data. But the real question is: are you making the most of that data? Our analysts can integrate multiple data streams and transform them into proven growth."
Guido Perotti, Performance Lead added: "We're working alongside Les Binet, Adam&Eve DDB's Head of Effectiveness and author of "The long and the short of it". That gives us a lot of knowledge on the commercial value of creativity."
Esther te Pas, Managing Director commented: "Many clients are not a fan of our hours-based remuneration system. With our real-time dashboard, we'll be the first creative agency with the confidence to make remuneration agreements based on the results we actually deliver."
Ivonne van Zuilen, Head of Marketing at Ben Telecom concluded: "It wasn't called DDB Unlimited yet, but we've been working with the agencies in this manner for years, and we see it as the new way of working."
Source:Â DDB Unlimited