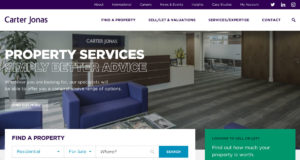 Carter Jonas, the national property consultancy, has launched a new online presence, supported by digital agency Delete. The new website reflects and enhances the business' role in delivering a highly personalised customer experience for its clients.
Created around the objective of delivering a fresh, 'best in class' presence which showcases Carter Jonas' expansive product offering, Delete worked with the firm to redesign and restructure the site for better conversion and engagement with Carter Jonas' clients, by streamlining and enhancing the entire user experience.
The new presence makes it easy for prospective home buyers, landowners and commercial clients to buy or sell new property and search for specific services within the firm's commercial, planning and development, rural and residential teams. The site recognises and responds to when users return, with content tailored to their particular history with the site. The fresh build also fully reflects the wide range of Carter Jonas' services, from property location to planning consultancy and beyond, combined with stress-free navigation for the customer.
The highly sophisticated new site seamlessly integrates Sitecore's Customer Experience Platform with multiple third-party systems already used within the Carter Jonas business. This allows the property services firm to easily manage its content stream to suit the various needs of its target audience.
The high level of personalisation was achieved by developing 'customer personalisation rules' for different personas – based on the data captured from user browsing and engagement behaviour on the site – to dictate which content the user will see, including: featured property listings; contact details; news; case studies; and events listed on the platform.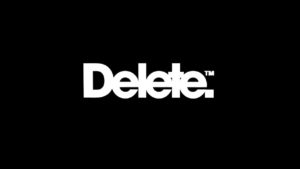 By ensuring the new website was optimised for search engines and compliant with the latest algorithm requirements, Delete safely migrated the old website across to the new without losing the existing footprint of the Carter Jonas brand in search engines. Delete will also remain on retainer to provide ongoing support in development and CRM post-launch.
Alex Ellis, managing Director at Delete commented: "It was clear from conversations early on that Carter Jonas has a unique and innovative approach to the way it tackles its market operations, and translating this into a highly personalised platform was at the heart of our approach. Using a range of Sitecore technology capabilities and advanced personalisation techniques developed by our team, we have been able to deliver a finished product which will not only encourage more sales, drive enquiries, intelligently capture and utilise customer data and inspire clients when it comes to their property decisions, but also place Carter Jonas at the forefront of digital transformation in the property sector."
Daniel Fulbrook, Head of Digital Marketing at Carter Jonas added: "Delete's expertise in the property sector, combined with their approach to both design and delivery of our site, fits perfectly with our core objectives for this project. Their approach has helped us develop a platform which clearly addressed and solves the needs of the end user and, working in partnership, we will continue to evolve our customers' online experience and offer a market-leading service."
Source: Delete