Dept, a leading creativity, technology and data agency in Europe has acquired Rocket Insights, one of the fastest growing product agencies in the United States. Rocket Insights has an extensive track record of delivering innovative products and services to clients like Foundation Medicine and Fox, and was responsible for the award-winning Virgin Pulse Apple Watch app.
Founded in 2015, Rocket Insights was built to bring a fresh approach to product design and development, specialising in the entire design and development lifecycle. Having spent years at product companies, the Rocket team opened the type of agency they always wanted to hire: one that fully aligns with clients and accelerates their business.
"We were determined to keep Rocket independent… That is until we met Dept", said Jesse Streb, Partner at Rocket Insights. "Dept has had rapid growth across Europe, has an incredible depth of data, creativity and technology services and a 'cool' factor that we admire. Adding our product expertise to Dept's one-stop shop strategy is a real opportunity to create a new kind of agency for our clients. We're thrilled to call the Dept team colleagues and friends."
The acquisition will further fuel Dept's global expansion with new offices in Boston and New York, led by the Rocket Insights team. Additionally, the acquisition signals a powerful merger of Dept's digital transformation services with Rocket's product development expertise.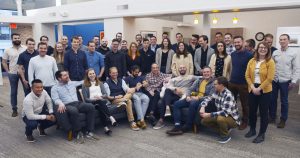 "We fell in love with the Rocket team", said Dimi Albers, Dept's Chief Executive Officer. "From our shared love for creative problem solving, to our relentless focus on improving our client's business. They are a group of incredibly talented designers and techies who can very rapidly take an idea and bring it to life in a useful, beautiful and seamless way. We truly believe that this is the spirit we're looking for when building the bridge for our clients between Europe and the US."
Since it launched in 2016, Dept has speedily grown across the globe and works with brands such as Tesla, Samsung, Triumph Motorcycles, Philips and Netflix. Currently, Dept employs a team of over 1200 people operating out of eleven countries in Europe and the US, with a revenue of over 135 million USD.
In order to service the growing international client portfolio, Dept is ramping up investment and expansion in the UK and US. In January, it announced the acquisition of Manchester agency e3creative. Last November, its current US operation in Boston was been bolstered by Dept-owned agency factor-a (market leaders in Amazon Marketing), opening an office in New York. With Rocket Insights joining, Dept solidifies its footprint in the US.
Source: Dept