Founded in 2015, as a newsletter to family and friends, Scott's Cheap Flights now has a membership of over 2 million people. Having grown to encompass a website, search engine, newsletter and soon-to-launch app, they help members find more value when they travel by approaching booking differently.
Today, with a team of over 60, the brand has grown beyond just Scott, and beyond the initial proposition of 'cheap flights'. As such, DesignStudio was challenged to build on this incredible growth with a new brand strategy, name and visual identity for the next leg of the brand's journey.
Say "Hello", "Bonjour", "Ciao", "Kia Ora", "Hej", "Hola" or "Aloha" to, Going.
Eric Ng, DesignStudio Executive Creative Director, Americas, says, "One of the many things that makes Scott's Cheap Flights so special is the way in which they open up the world for their members. By encouraging a new approach to booking that focuses less on the destination, they broaden one's perspective on how to travel through enticing and unexpected opportunities. This inspired our new strategic idea – Invite the unexpected – which encourages users to adopt a different mindset, to invite something new into their lives through the brand."

He continued, "Crucially, when so much of the travel industry is positioned around price, and the company had grown far beyond its original proposition, the new brand needed to create differentiation through an emotive platform to better connect with consumers. The name, Going, instils a sense of curiosity and naturally gives the feeling of movement."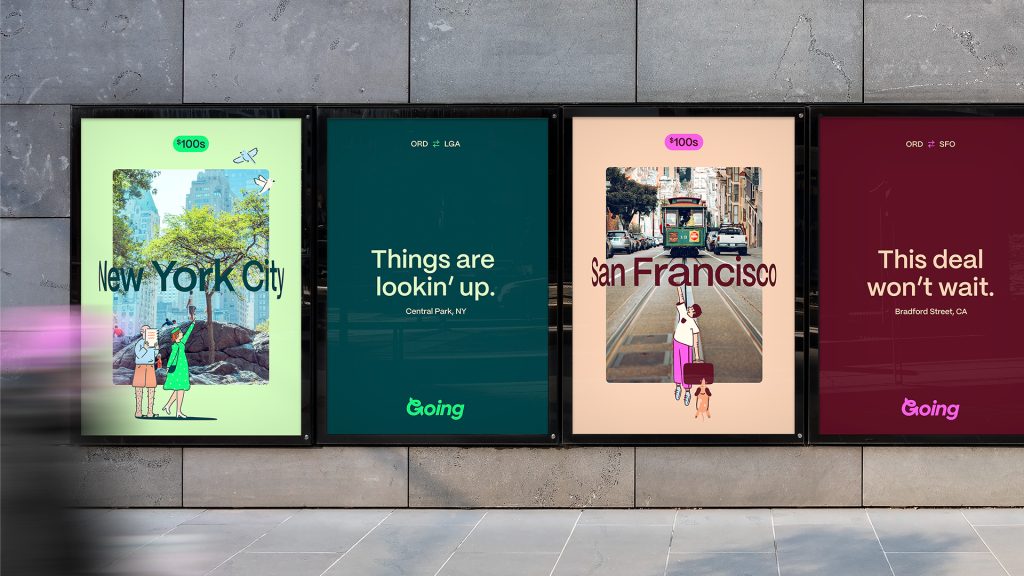 Our design system was based on the intrepid notion of being open-minded enough to spin a globe and spontaneously pick a destination. This translated digitally into interactive and motion principles that allowed one to peruse destinations and deals, discovering something new with every swipe. Our Going symbol visualizes the unique process of starting with a deal, a nod towards the spontaneous twist and turns of travel, whilst pointing forward with gusto.
We developed a full toolkit for the Going team in which all assets aim to bring a personal touch; a nod to the brand's beginnings and a symbol of Scott's ongoing involvement. Illustrations interact with destinations through the globe and help the audience imagine themselves in a place in a way model photography can't achieve. Where photography is used, we steer clear of bucket list landmarks and influencer like models. Instead opting for vignettes of smaller moments that tell unexpected and intimate stories. Where we can, we hero user generated content that represent traveler's perspectives from all walks of life.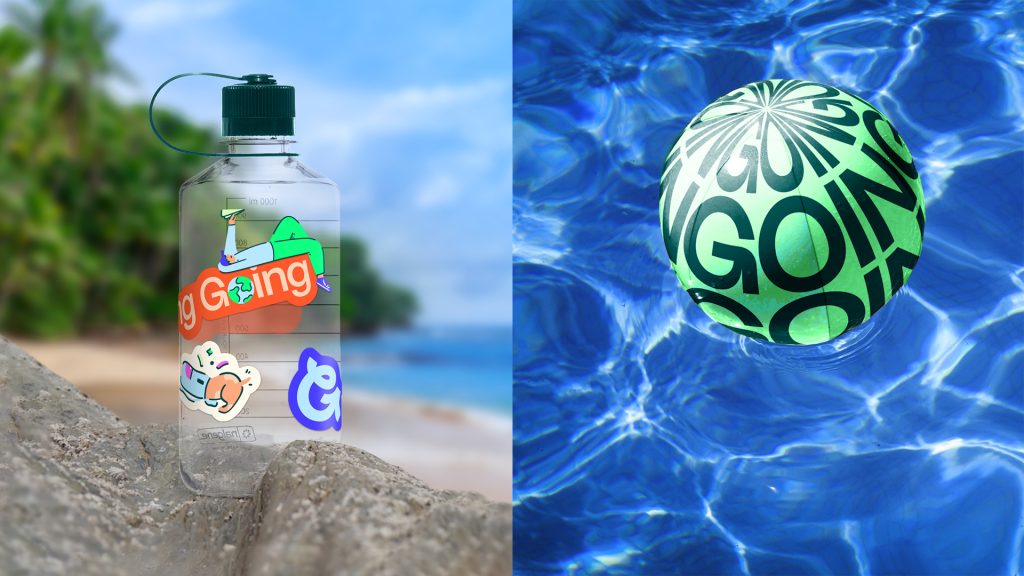 Brian Kidwell, Co-founder and CEO at Going says, "While this is a big visual change, one thing that hasn't changed is the soul of this company. We'll continue putting travelers first, continue sending out incredible cheap flights, and we're excited to build even more ways to help people travel beyond what we can deliver in an email."
"Scott's Cheap Flights has incredibly loyal members who feel deeply connected to our brand. Rebranding a company with such a fervent member base required an agency partner that honored our past while creating an identity to support our ambitious product vision and growth targets. Design Studio was the perfect partner leading us through a highly collaborative, iterative, creative, and thorough process where their team acted as an extension of the Scott's Cheap Flights team. We couldn't be happier with the final results," Derek Cann, VP Marketing at Going.
The new Going brand is now live. Find out more about the brand and the partnership between Going and DesignStudio, here.
Source: DesignStudio