DFS, working with krow communications, has struck a partnership with Aardman and STUDIOCANAL ahead of the release of 'EARLY MAN' – Academy Award winning director Nick Park's prehistoric comedy adventure – which sees characters from the new movie feature in DFS' Winter Sale campaign.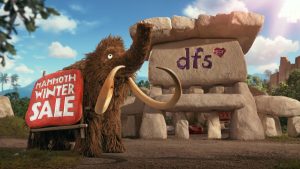 The new ad, 'Search for Comfort', was created by krow and features members of EARLY MAN's Stone Age tribe – an era devoid of creature comforts – discovering true comfort for the very first time on DFS sofas to promote the retailer's Mammoth Winter Sale.
In the DFS, 'Search for Comfort' TV campaign, we see the Early Man tribe transported from the stone age and into the comfy age. Up to the time we meet them, our tribe spend their downtime perched on things like rocks and prickly cacti. Luckily for them they come across a friendly Mammoth who directs them to a DFS store and a caveman sales advisor who helps them experience comfort for the very first time.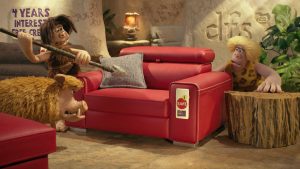 'Search for Comfort', Directed by Aardman's Jay Grace is the eighth campaign for DFS by krow working with Aardman as their creative partner.
DFS Chief Marketing Officer Toni Wood said: "As brands, DFS and Aardman share the same commitment to quality craftsmanship. For us, it's about the craft of hand-making sofas that our customers and their families will love, and for Aardman it's about the craft of stop frame animation to shape amazing characters and stories.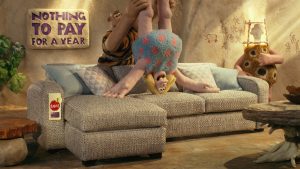 We're really excited about this campaign created by krow, helping the brilliant characters of the new Aardman feature film discover the joy of comfort for the first time with DFS. The partnership builds on a strong working relationship with Aardman and allows us to creatively showcase the DFS commitment to comfort in a charming and entertaining way which will appeal to the whole family."'
Darryl George, Creative Director at krow, said: "It's really exciting to work with some of the team behind the upcoming 'EARLY MAN' movie and experience their creativity and expertise first hand to bring our creative idea to life. The result is a mammoth film and partnership!"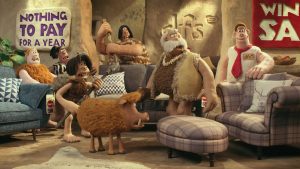 Heather Wright, Executive Producer & Head of Partner Content at Aardman added: "What's not to love about a stone age tribe who finally find a comfortable place to sit down? Huge fun was had at Aardman animating the 'EARLY MAN' tribe fighting over their places on the sofa. Isn't it great when two worlds come together to combine the best of entertainment and advertising creativity and it just works?"
'Search for Comfort' breaks on December 22 and will run on all major TV channels – ITV, C4, Sky and Channel 5 – and in cinemas nationwide with other activity in radio, press, DOOH, online and social.
The campaign will run until February 2018. 'EARLY MAN', released by STUDIOCANAL, opens in cinemas across the UK on January 26.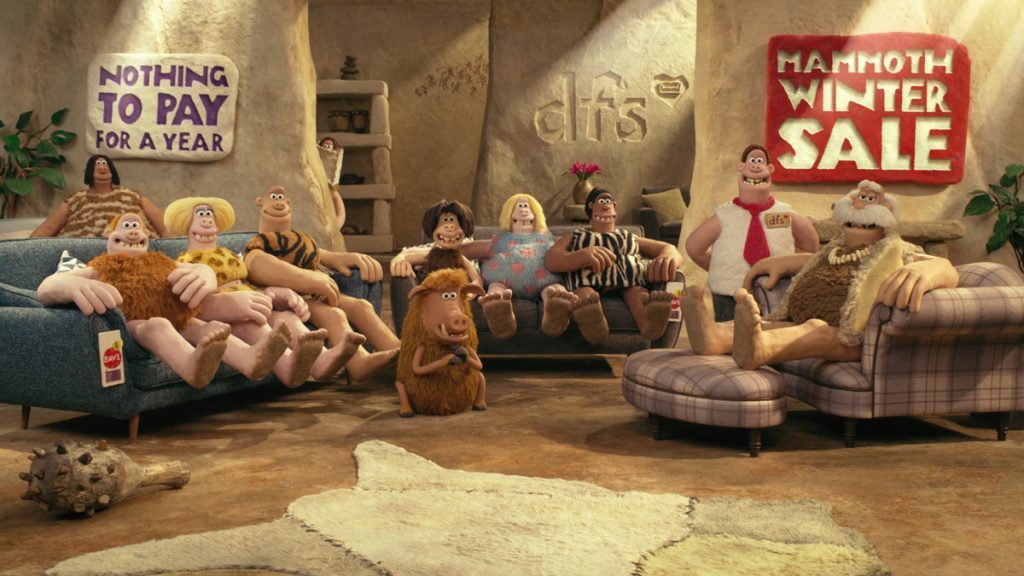 Source: krow communications