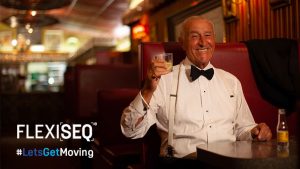 Flexiseq, the award-winning, drug-free, osteoarthritis gel and former Strictly Come Dancing judge, Len Goodman, are hoping to encourage a nation experiencing joint pain and stiffness to get moving, in a bid to combat the debilitating effects of arthritis.
The #LetsGetMoving campaign by Dirt & Glory, is designed to educate, empower and encourage the UK to get up, get out and get moving.
Nigel Brown, Managing Director of Dirt & Glory said of the campaign, "Over the past two years of running Flexiseq's creative output we were in a unique position to understand not only how osteoarthritis impacts the lives of those experiencing it but more crucially the huge affection Flexiseq users have for the brand. As a demographic, we've never seen such incredible engagement on social media. Finding the right brand ambassador to bring to life and inspire those with arthritis to stay active is an essential part of this campaign. They don't get much better than Len to bring this important issue to a wider audience."
There is an estimated 10 million people in the UK suffering from arthritis. Telling just a handful of stories was not going to be enough.
Nick Baverstock, Marketing Director for Flexiseq, said, "Flexiseq has been on the market for several years, but we needed something to take us to the next level. What Dirt & Glory proposed and executed has done that and more. Suddenly we have a face that people associate with the brand but more importantly one that speaks to those who need and use it. We are only three months into the campaign and we have already seen a significant impact on all aspects of the business. Our customers share huge love for Flexiseq and Dirt & Glory brings this affection to life and amplifies it. It's rare to encounter an agency who not only understand a brand so perfectly but also who are able to bring it to life with care, creativity and passion."
Source: Dirt & Glory