Skincare brand Dove Men+Care has launched its Rugby World Cup 2015 activities with a video promoting the brand's key message, 'care makes a man stronger', Twitter giveaways and a partnership with The Daily Telegraph.
Dove – a partner of the English, Irish, Scottish and Welsh rugby associations – said it is celebrating the "rugby values" of teamwork, camaraderie and family through the campaign.
It is hosting a world cup ticket giveaway on its Twitter account every Thursday through the tournament, using the hashtag #SCRUMTOGETHER. It is also sponsoring a number of London buses.
In addition, in a partnership with the Daily Telegraph, the '#SCRUMTOGETHER Series' will involve interviews with players including Wales' George North and England's Courtney Lawes, and their friends, family and wider support network.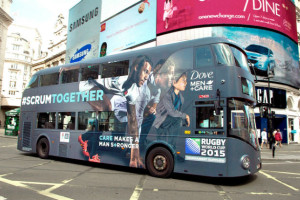 At the centre of the campaign is a film featuring Rudyard Kipling's poem If, which will be shown on ITV on the day of the opening match next Friday, and includes players from each of the four home nations. A second part of the film will then be previewed exclusively to those entering the Twitter tickets competition.
The brand also says it is "exclusively providing" a total of 10,000 anti-perspirants, shower gels and face products to Rugby World Cup 2015 venues.
Callum Galloway, brand manager of Dove Men+Care, said: "Dove Men+Care has demonstrated its commitment to rugby over many years and we're really excited about launching our Rugby World Cup 2015 #SCRUMTOGETHER campaign with this match ticket giveaway. Rugby's values align brilliantly with our brand's and over the next six weeks or so, Dove Men+Care will look to enhance the fan's experience of the tournament through our activity."