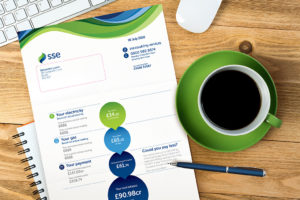 A radical new bill design for SSE by global brand design consultancy Elmwood, has been welcomed by an array of consumer groups and could pave the way for the industry on better bill communication.
Customer experience has been the driving force behind the new concept, bringing the essence of current regulations around energy billing to life.
Which?, Citizens Advice and uSwitch have all welcomed the clear and simple design and it's even being used as a contribution to Ofgem's work that looks at how existing rules might be improved.
Energy bills have traditionally been a source of confusion and frustration for consumers which has led to increased customer complaints. To overcome this, and inject some clarity into billing, SSE wanted an entirely new design.
The objective was to lead by example and demonstrate SSE's commitment to its customers, empowering them to make better, well-informed decisions about how they use their household energy.
Amanda Cragg, Elmwood Account Director, says: "From the start, this was an ambitious project. It was about transforming the bill experience rather than delivering incremental change. To do this, we had to start with a blank piece of paper and allow customers to tell us what they really wanted to see.
"We worked closely with the insight team at SSE throughout the process, attending research and co-creation sessions with customers. What they told us was clear. Less information. Fewer pages. More personalisation. In short, something they could understand quickly and easily."
Elmwood also carried out a global bill audit, which highlighted improvements that could be made in the industry to simplify billing, and enlisted the support of The Design Council to review and build on the strategic recommendations.
As a result, Elmwood separated important information into three distinct bubbles; one to show electricity usage, another to show gas and another highlighting the total amount of money due. The new bill also includes information to suggest how customers could pay less.
Natalie Bennett, Designer Director at Elmwood says: "On the first page consumers can immediately see what they've spent, talking in monetary terms as opposed to kwH.
"Colour and shape guide the eye through the bill and highlight the most important information without it feeling crowded. All account information has been put together in one area and we made sure that the tone of voice was simple.
"The second page provides more detail for customers who want to see how they could save. It shows how they spend and compares their usage to other people like them. This page offers practical hints and tips on how to save, as well as giving customers all the information the need to get in touch and pay the bill."
Elmwood's design has achieved what it set out to do so effectively that industry watchdogs have openly supported it.
Tom Lyon, energy expert at uSwitch.com, says: "Energy bills are notoriously difficult to decipher, and so SSE should be applauded for redesigning a bill based on such extensive research about consumers. The time for clearer energy bills is well overdue.
"To get more people engaging with the market, it's vital that customers are armed with simpler information about their energy use and spend."
Will Morris, SSE's Group Managing Director, Retail, says: "The time has come to start again with energy bills. Our research has shown that customers are calling out for simpler bills. They want to be able to find the information they need quickly and easily and we believe the principles that our new bills are based on will help customers do just that.
"We have built this bill from scratch and created something which is based on what customers actually want. We're delighted that Ofgem is looking at how to improve the rules so that they work better for customers and we believe our work can make an important contribution. It is vital that groups from across the sector – suppliers, consumer groups, design experts, the government and the regulator – work together to make sure these bills are better for customers. Across the board we need to become more customer centric as an industry and we hope this is a step in the right direction."
There has also been further support of the new bill design from the Design Council and the Campaign for Plain English:
John Mathers, Chief Executive of the Design Council, says: "Genuinely putting the customer at the very centre of this programme was key. SSE has spent time and effort both understanding what it is their customers want from their bills and responding accordingly. This approach should set the benchmark in the utilities industry for the design of this critical piece of customer communication."
Adding to this, a spokesman for The Campaign for Plain English, which lobbies for clearer energy bills for consumers, said: "We applaud SSE for a fine example of clear commercial communication.
"The bill gives the reader all the information they need in a simple, easy-to-read format. The bill is one of the better examples we've seen and we would definitely encourage other energy companies to use the bill as a template."