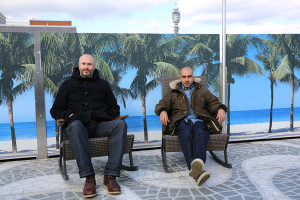 Sam Walker and Joe De Souza, the former group ECDs and partners at Karmarama, have launched a creative shop called Faster Horses.
The company is designed to help clients find standout creative solutions to business problems. Operating effectively as a lean "bolt-on" creative department, Faster Horses aims to deliver ambitious work for ambitious clients, providing not only creative concepts but creative strategy too. Its first work for Uniqlo launches this week.
Walker and De Souza are working with a range of partners, including third-party production, design, digital and experiential companies when required, to deliver multi-channel campaigns.
They said: "The ambition for Faster Horses is to be an agile, highly experienced creative resource not just for established brands and agencies but for start-ups, post-production houses, media and PR companies – and anyone else looking to make an impact with exceptional creative work."
The duos most high profile work was the 'God Only Knows' film, launching BBC Music in 2015. The award winning (Cannes Lions and D&AD Pencils, including a Black Pencil for Britart and Yellow Pencils for Orange 'Dance' and 'Goldspots'), team left Karmarama in August 2015. They previously worked at Fallon.