Bensimon Byrne and 1stAveMachine create a first-of-its-kind test-drive with supermodel Coco Rocha to launch the new flagship EV
To promote the new fully electric Audi Q8 e-tron vehicle, Audi Canada has launched "Feel the Art of Audi," a bold creative campaign from Bensimon Byrne which allows would-be drivers to both see and feel the future of premium mobility and illustrate how Audi goes beyond simply putting people in cars and prioritizes creating meaningful and fascinating experiences.
Working with Canadian supermodel Coca Rocha, the agency partnered with 1stAveMachine for the campaign, using an array of biometric sensors to capture the lifelong Audi driver's genuine responses to the new Q8's design, performance, and refinements. It then fed her responses—which ranged from awe, to exhilaration, and serenity—into a custom-built AI art generator to transform them into dynamic digital art.
"We represented the full driving experience by using different sensors to support information collected by EEG sensors, which enabled us to capture all the available data relating to the driver's emotions and express it visually. The data was mapped into a system based on sand particles, whose physical attributes change in relation to the data," said Juan Santacruz, Founder and ECD at Espadaysantacruz Studio, who worked with 1stAveMachine on the A.I for the campaign. "That means the visual story is presented in an abstract way, capturing the driver's journey from first seeing the new Audi Q8 e-tron, to stepping out of it after experimenting with its various features."
With so much of the conversation around EVs focused on practical aspects such as range, price and availability, the campaign goal was to position the Q8 as the new standard of electric luxury thanks to its combination of understated and elegant design, attention to detail both inside and out, and zero compromise on performance.
Audi prides itself on progress and embracing new technologies that improve the human experience, and the resulting art is the embodiment of progress that drivers can feel.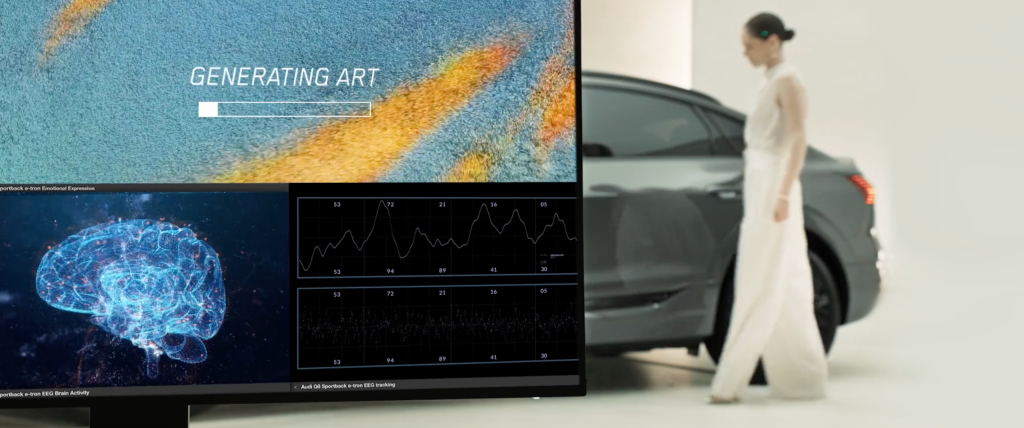 "The campaign goal is to tell a compelling story about the Q8 rather than simply outlining a series of features," said Audi Canada Head of Marketing Joseph Ottorino. "This concept not only precisely captured the feeling of experiencing the Q8 e-tron models but did it through an AI-generated visual masterpiece," he said. "The AI experiment was a compelling factor."
Joseph Bonnici, CCO for Bensimon Byrne's parent company, Tadiem, said "EV brands have both a challenge and an opportunity to stand out beyond simply technical specs as the category matures and people's questions and fears around the category begin to subside."
Coco Rocha was the perfect fit for the campaign as not only is she is a lifelong Audi driver, but she is also a modelling pioneer who was among the very first adopters of social media. "Rocha is a perfect representation of Audi's progressive approach to automaking," added Bonnici.
Source: Bensimon Byrne