Pay ID launches its inaugural advertising campaign in Australia with a TVC featuring a fish-headed man. The highly-anticipated new payments platform is designed to make sending and receiving payments easier. The star of the campaign has a goldfish head – fitting, as a key component of Pay ID is in allowing consumers to link financial accounts to easy-to-remember pieces of information.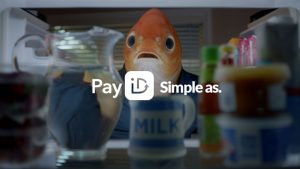 'Simple As' was creatively devised by Agency Mr. Wolf, produced by Otto Empire, and directed by Christopher Hill. Boutique design and VFX house, Fin Design + Effects, was selected to bring the animated element of the otherwise live-action 30' spot to life.
Thanks to its involvement from the onset, Fin was able to use its strong visual storytelling expertise to shape the creative, working closely with Mr. Wolf throughout. Fin completed the spot over a six-week period.
CG Supervisor at Fin, Robert Grbevski, comments: "While the concept in itself is surreal, we decided early on to go with a subtle look for the animation. The intention was always for the execution to be as grounded in reality as possible to avoid it becoming gimmicky. We invested a lot of time into studying the movements and appearance of real goldfish to determine the nuanced characteristics. Attention to detail was key, especially in creating the multi-layered, gel-like texture, and metallic sheen of the goldfish skin. For the animation to be true to life, we kept the fish mouth stiffer in its lip movements and less articulated than the human mouth."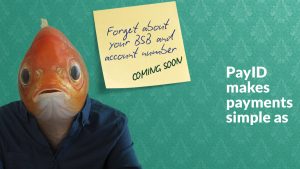 Prior to the shoot, Fin photo-surveyed the actor to calculate the correct proportions of the fish head, feeding this information back to the director. Using these virtual models as reference, the props department built a prosthetic neck, which was worn by the actor – making the shirt sit around his neck in a way that mimicked the thickness of a fish's neck.
Tracking markers were placed on the actor during the shoot for extensive onset data acquisition – a key aspect in allowing the VFX artists to correctly place the animated head on the live action plates. Fin also shot HDRI's on set for each camera set up to collect the lighting information and reflections, and to ensure the fish head fit into each shot perfectly.
Sudden changes in the creative prompted the team at Fin to find smart technical solutions: "During preproduction, the character's gender was changed from female to male," comments Robert. "This posed a challenge for us because the area between the fish and the human body was originally going to be covered by a scarf. Switching to a male talent involved more complexities in terms of the exposure of the neckline, but we were able to find a fix in opting for a shirt stiff collar."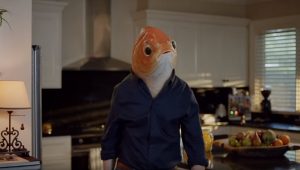 Commenting on the collaboration, Executive Producer at Fin, Alastair Stephen, says: "This project was another great opportunity for us to apply our craft alongside some new partners. For Mister Wolf, this involved their most complex VFX job to date, so proactiveness in communication was key from our side as VFX partners. Their trust in Robert from pre-production all the way through to delivery made this a great working relationship. As always, being able to advise from the onset made the tail end of the process much smoother and ensured a high-end result. The crew rose to the challenge and once again produced some incredible images."
Source: Fin Design + Effects