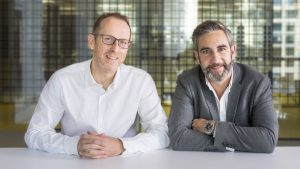 Foresight has announced a £3.5m growth capital investment into Nano Interactive Group Limited ("Nano"), a leading advertising technology business, on behalf of Foresight VCT plc.
Nano was founded in 2014 by Christian Geyer and Carl White, two former executives of ad tech business ValueClick (now Conversant) after identifying an opportunity to develop an advertising technology business focused on the emerging search and intent based targeting sector. Today, the global search targeting display market is estimated to be worth over half a billion dollars and represents the fastest growing segment in the online display advertising market.
Search targeting is a form of online advertising where relevant display, mobile and video advertisements are served to internet users based on their recent search history. Using its proprietary data management platform, Audience Manager, Nano has developed a network comprising 500 million unique profiles and captures more than five billion searches per month. Nano works with over 500 clients globally including T-Mobile, Volkswagen and MediaMarkt and has offices in Munich, Hamburg, London, Paris, Belgrade and Warsaw.
With Foresight's investment, Nano will accelerate its plans to expand internationally and make further investments in sales, marketing and product development. The investment will also support the roll-out of INSIST, Nano's brand safe solution for advertisers.
Nano is the first investment announced in 2018 by Foresight's highly active Private Equity team, building on the 12 investments completed in 2017.  Nano is the seventh investment made from Foresight VCT in the past 12 months and represents Foresight's first foray back into the technology sector since achieving a 3x return on the exit of Simulity to ARM just eight months after investing, delivering an IRR of c.400%.
Rodney Appiah, Senior Investment Manager, Foresight Group, commented: "In a relatively short period of time, Nano has delivered exceptional growth, built fantastic client relationships and developed market leading proprietary technology in the area of search and intent based targeting. Carl and Christian have built a very strong management team and we look forward to working with them to develop this emerging sector."
Christian Geyer, Co – Founder and CEO, Nano Interactive Group Limited, commented: "We are thrilled to be working with Foresight to accelerate our expansion across Europe and thus consolidate our leadership in the prospecting search targeting market. The series A investment marks an important stage in our development. With Foresight's profound experience and their commitment to our values we have given Nano a perfect structure to make the company well prepared and equipped for further growth."
Carl White, Co – Founder and Chief Strategy Officer, Nano Interactive Group Limited, commented: "We believe that Foresight is the perfect partner to help us to deliver the ambitious and future focused product roadmap. Nano Interactive is dedicated to building brand safe targeting products across all digital platforms that make advertising more effective and relevant for users and advertisers alike."
Source: Foresight