GAME is proud to launch its new 'Deadline Deals' campaign, fronted by football manager Harry Redknapp.
Created by OMD UK, Drum and Snack Media, the social media campaign taps into the cultural phenomenon of football Transfer Deadline Day, with a series of spoof videos to raise awareness of GAME's Black Friday deals, as well as a dedicated website hub to house the deals.
The videos centre around the 'GAME Deadline Deal Studio' bringing consumers details on the hottest deals taking place throughout the weekend and features the journey of reporters, 'players' (GAME deals), 'managers' (customers) and notorious footballer-deal-hunter, Harry Redknapp, throughout the day.
The videos will be distributed across GAME's social media channels and supported by Snack Media's Partner Network of websites and social media accounts, with further social amplification handled by OMD UK.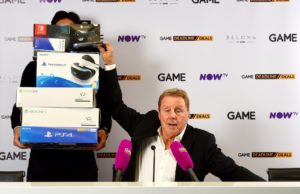 Siobhan King, Head of Customer & Cultural Marketing at GAME, said: "There are so many similarities between Transfer Deadline Day and Black Friday. The hype, rumours and social debate make them both seriously exciting cultural moments. We feel that GAME Deadline Deals fuses the two perfectly. We wanted to really cut through the noise this Black Friday by being distributive, humorous and social. Deadline Deals executes that perfectly."
Niall Coen, Snack Media Founder & CEO, said: "This is a really exciting campaign for the best-known video game and electronics retailer in the country. There is a real tangible link between gamers and football fans across our 26 million addressable audiences, so it made perfect sense for us to drive this campaign for GAME. We are proud of our creative vision to create the viral videos and we have a proven track record of managing Social Media projects like this one. So we're really happy to be helping gaming enthusiasts across the UK grab some big Black Friday bargains."
The campaign runs from Thursday 23rd November at 5pm to Monday 27th November 2017 at midnight via @GAMEdigital (Twitter & Instagram) and @Gamestore (Facebook).
Source: OMD UK