In its latest TVC 'Go Dine', GoCompare unveils a brand-new partnership with restaurant app Dine. The comparison site expands its trademark 'fantastic deals' to the food sector with an offer that allows its customers to save money when they eat out at their favourite restaurants across the UK.
'Go Dine' sees moustachioed singing icon Gio Compario return to our screens to promote the partnership, popping up in a colourful eatery amongst a table of friends. Sharing the good news before they pay their bill, Gio announces that thanks to GoCompare, they can afford to eat out more. Customers who buy car or home insurance through the site get a free Dine membership (worth £49.99), which includes 2 for 1 on meals at hundreds of participating restaurants.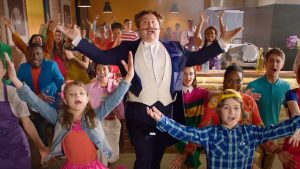 The spot, created by duo Chris and Siân Wilkins, builds on Yellow Boat Music's partnership with the comparison site. The music production experts have delivered a bespoke soundtrack for many of GoCompare's iconic TV campaigns to date.
This latest instalment includes a custom piece composed and arranged by Paul Cartledge and Philip Jewson and sees the pair take a more up-tempo, Jazz-influenced route to add warmth and energy to the restaurant surroundings of the TV spot.
The team also developed subtle musical flourishes to complement a range of comedic visual moments.
'Go Dine' is now live on TV and online with 20, 30 and 40-second cut downs.
Source: Yellow Boat Music