[KGVID width="600″ height="338″]https://marcommnews.com/wp-content/uploads/2015/11/high.mp4[/KGVID]
The Dubai-based luxury hotel company Jumeirah launches Jumeirah Inside: a Google Street View-like experience that travels through 23 hotels with 360 video and photography and various interactive features. Connected through a cinematic story, visitors of the platform can explore each hotel freely and book a stay from within the experience.
Developed in close collaboration with Google and production company MediaMonks, Jumeirah Inside is a first of its kind in the global hotel industry. The experience combines the latest Google technologies with an interactive story to let people discover the world of Jumeirah in a truly unique way.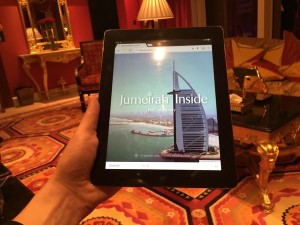 The experience is built around the magnificent Burj Al Arab Jumeirah, the world-famous hotel on the coast of Dubai. In order to provide the most immersive experience to users, Jumeirah Inside welcomes visitors with a breathtaking shot from an arriving helicopter. From this point onwards, visitors can freely explore the Burj Al Arab Jumeirah and 22 other hotels brought to life by 360 video and photospheres, spatial sound, and interactive hotspots that let you discover the details that make Jumeirah special.
Ross McAuley, Group Vice President of Brand, Digital and Loyalty, Jumeirah Group, said: "Jumeirah Inside is one of the most exciting digital developments for Jumeirah Group. Just as we aim to exceed our guests' expectations whenever they visit our luxury hotels around the world, so is our aim to give an unforgettably rich, immersive online experience in advance of their arrival. This is a world-first for the hospitality sector. Jumeirah Inside has been initiated for us by Google's in-house agency. The platform works across desktop, tablet and mobile devices, in five languages, offering a film-focused exploration of the world's most luxurious hotel, Burj Al Arab Jumeirah. And in so doing, it connects that remarkable property back to Jumeirah Group's portfolio of other luxury hotels, our 'Stay Different' brand promise, and the outstanding service our guests can expect when they walk through the door of any Jumeirah hotel."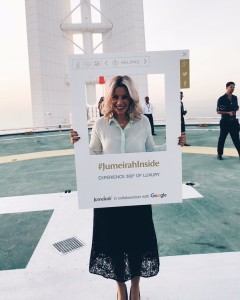 Ivan Jakovljevic, Head of Travel and Finance at Google in the Middle East and North Africa, said: "We are very excited to see Jumeirah Inside spread its magic to the world. We worked very closely with the Jumeirah team to unleash the creative potential of their brand enabled by the latest advances in digital technology to tell the best possible story from the consumer's point of view at every step of an immersive travel journey. Innovation through technology is at the core of what we do. We are always striving to create new ways for our partners to find their audience and create rich, personal experiences with them. Jumeirah Group has set a high standard for the hospitality industry as a brand that consistently explores what is possible through adoption of digital. It is enhancing the way people experience travel, and we are proud to be a part of it."
MediaMonks CEO, Victor Knaap: "From the very start, Jumeirah Inside set out to be different. The integrated film and digital production is incredibly ambitious both in terms of scale and scope, capturing 23 hotels from all over the world in one massive interactive experience. Working together with Google has been incredible for making Jumeirah Inside great in every respect. I can't wait to show people this project."
"The Jumeirah Inside platform is the most immersive and interactive consumer experience on a hospitality platform today," commented Nadim Samara, managing director of OMD UAE and Lower Gulf. "It has been a truly incredible experience for the team to make it happen with Jumeirah, Google and MediaMonks and enriching guests' experiences with innovative formats like 360 degree video which spanned across markets as well as devices. OMD has leveraged its insights on consumer behaviours and deployed fully integrated media strategies to ensure its successful launch."