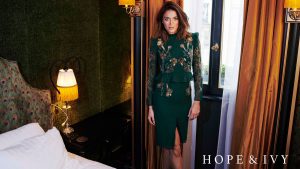 The contemporary British fashion brand, Hope & Ivy have engaged with Media Agency Group (mag) to capitalise on the agency's specialist knowledge in order to help raise brand awareness and a drive behind their beautiful embroidered and printed signature garments.
The London based fashion brand was established by friends Beth and Sarah in 2015. As a partnership, they travel from print libraries in New York to embroidery markets in India to inject the richness of the world into their Hope & Ivy collections. The collections are jam-packed with far-flung inspirations and intricate details.
As well as having their own ecommerce website, Hope & Ivy currently partners with online retail giants such as ASOS and Zalando to sell their collections. The brand offers a diverse range of sizes catering for all with tall, petite and maternity collections. Hope & Ivy is driven by championing exclusivity in an aim to make their customers feel truly beautiful in the well thought out designs.
John Kehoe, CEO of Media Agency Group said: "Hope & Ivy has a fantastic collection of hand-crafted clothes including dresses and jumpsuits and more one-off pieces. They've already made their mark in the fashion world, but we're delighted they've requested us to come on board and support their team on their next period of growth."
Beth Chilton, Director of Hope & Ivy said: "In an aim to expand our reach, we approached Media Agency Group, after reading about their work across the fashion, retail and e-commerce industries and were instantly drawn to their backlog of impressive clients and campaigns. We decided to invite them to manage our online marketing strategy for the next 12 months. This partnership with MAG ensures that we at Hope & Ivy have the support to catapult our wonderful designs and inspiring brand philosophy to a greater audience in the most effective manner."
Beth and Sarah's friendship formed over a mutual love of beautifully crafted dresses, delicate embroidery, rich textures and a shared desire to create amazing, must-have pieces that will take a special place in your wardrobe. This shared goal has grown into a blossoming fashion venture with a close team of creatives all sharing a raw passion for the Hope & Ivy brand and ethos.
Source: Media Agency Group