Creators of the global AI phenomenon 'The Uncreative Agency' revealed
Creative network DDB is behind the first-of-its-kind AI advertising tool
Following widespread interest, the network announces the launch of 'RAND' – DDB's Hybrid Creativity Platform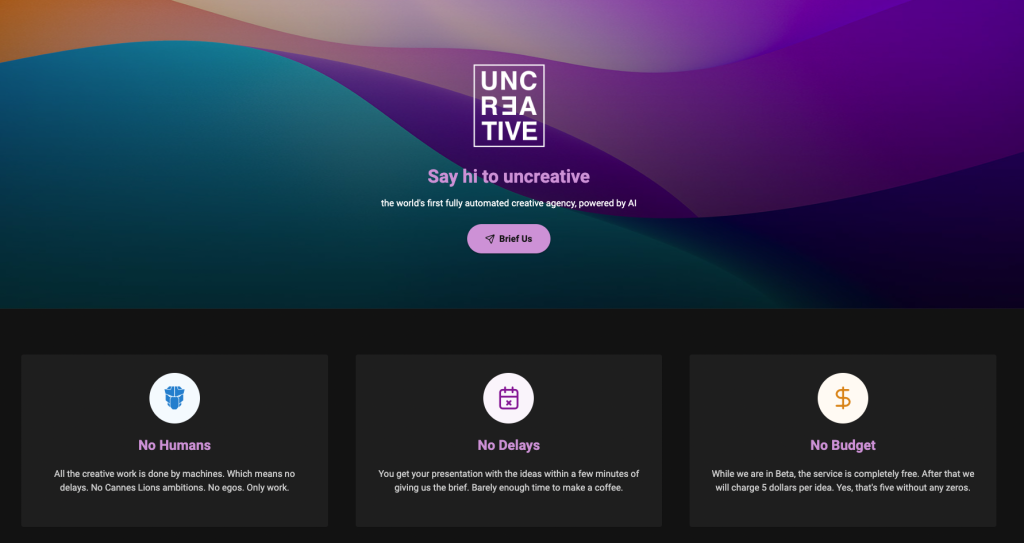 A first-of-its-kind AI tool that has seized the attention of the global marketing industry, garnering more than 12,000 users in the space of 5 days and widespread international coverage, has today been revealed as the brainchild of global creative network DDB.
'The Uncreative Agency' is the world's first fully automated creative agency, powered by AI. The initiative launched on Friday 27th January and quickly caught the attention of marketers throughout the industry, with many users questioning who was behind it. Its popularity shows no signs of slowing, with two creative proposals currently being generated every minute.
The tool, created by George Strakhov, Chief Strategy Officer at DDB EMEA and his team at NORD DDB, invites users to submit a simple one-sentence brief that generates a unique creative proposal in a matter of minutes – without any human input and zero budget. Whilst the quality of creative ideas produced certainly won't have agencies quaking in their boots at present, they do show that the technology even in its nascent state, once embraced and nurtured by creative minds, will have the capacity to learn and develop into a very useful part of the creative process.
Data shows that senior marketers at a number of the world's most famous brands and Fortune 500 companies have already been interacting with the tool, along with leaders of the world's most significant global agencies and consultancies.
AI tools, such as ChatGPT, have been an increasingly hot topic in recent weeks, with many in the global marketing community warning it poses a threat to the very existence of the creative industry.
Leaders at DDB have been investigating the power of AI for a number of years. 'The Uncreative Agency', was initially devised as an experiment to show marketers that they can play a part in shaping the future of AI rather than shy away from it. It is DDB's belief that the speed of machine learning – combined with the talent of its creative people – will raise the creative bar exponentially and supercharge its output for clients. Likewise, those who dismiss AI's potential face the very real risk of falling behind.
George champions the benefits of embedding learnings from AI into DDB's ways of working: "The knee-jerk reaction from our industry is always to say that AI can never be as creative as a human. But having worked with AI for the past 5 years, I believe, this view is short-sighted. It's like saying that your intern in the creative department is never going to be creative, because currently their output is a little random. But if we work with them, if we listen to them, if we believe in them, train them, brainstorm with them… can they be a vital part of a team that produces an amazing idea? Absolutely yes. It's the same with AI. Great creativity can be born out of randomness. We just need to work with it."
DDB will continue to invest in further development, testing and internal implementation of AI-powered tools that can help supercharge the creative process at all DDB and Omnicom offices.
The ambition is that RAND, its newly created dedicated Hybrid Creative Platform, will include client consultancy to implement existing and upcoming AI technologies along the creative process – from research and ideation to production and analytics. The platform will also act as an incubator for generative AI start-ups, helping businesses build and scale within the context of the real creative process.
Glen Lomas, President and Chief Executive, DDB EMEA said: "It feels natural for us to dive head first into the potential of AI. Our founder Bill Bernbach changed the way our industry works by being the first to combine art and copy. Alongside his early creative partner, Paul Rand, they would visit galleries and museums discussing how the two worked in harmony. Now we are building on their legacy by exploring how humans and machines work in harmony."
Andreas Dahlqvist, Chief Creative Officer of NORD DDB, added: "Great ideas and innovation usually happen when two or more known things are mashed up into something new, and AI is great at that if prompted in the right way. To me it's not about if AI is creative or not, but what people and talent it rubs up against. It's about how we can get to better ideas faster. And that's what we are exploring."
DDB's global network of creative agencies will continue to experiment and innovate in this space, led by George Starkhov and his team in NORD DDB, with the aim of exporting learnings and benefits for its clients around the world.
Source: DDB