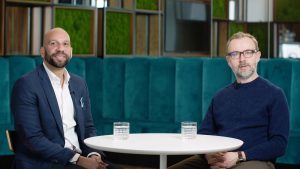 Digital agency Jellyfish has announced the appointment of industry heavyweight Paul Mead as an executive board director. The appointment, which aims to support the business as it continues its rapid growth, is effective immediately.
With 20 years of experience, Mead is widely regarded as one of the most influential figures in the media industry. Voted in the top 100 people in the UK digital industry, Mead has served as a judge on numerous award programmes including the Campaign Media Awards and the Media Week Awards, as well as chairing The Drum Search Awards. Mead is also a Fellow of the IPA, a Tech Stars mentor, Tech London Advocate and a Google Agency Advisory Board member.
Having left the publishing industry to join a dot com in 2000, Mead built the business to 2m monthly active users, launching one of the UK's first cost-per-click ad models and building a client base including more than 200 of the UK's leading advertisers. In 2006 Mead founded VCCP Media, which he led as CEO from a two-person search specialist to a top 20 full service media agency. After completing his exit in 2016 he has continued to work with the group as a consultant. In addition to his role at Jellyfish, Mead will continue to work as an adviser and consultant to major technology companies, brands, start-ups and private equity firms.
Rob Pierre, CEO of Jellyfish comments: "We're really excited to have Paul join as an executive board member. When something presents itself as an opportunity, I felt it was a no-brainer to have the discussion and luckily that led to Paul agreeing to join us and help us with our rapid growth. The timing was perfect."
Commenting on the appointment, Paul Mead said: "I think Jellyfish as a business is structured in exactly the right way to take advantage of what's going on in the market. There's a huge amount of digital transformation going on out there and there's a requirement from clients to work with businesses that are specialists in that space but still understand how digital activities connect with the broader picture. When I look at the market, there are very few companies with the mix that Jellyfish has got. It's an exciting story that's unfolding and I'm excited to be a part of that and drive it over the next few years."
Source: Jellyfish