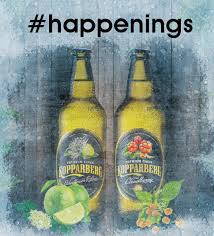 Swedish cider brand Kopparberg is offering fans the chance to win a unique Kopparberg experience delivered straight to their door as part of a new social media competition.
Launched last month in London and now hitting the road to appear in Manchester next week, the social media activity coincides with the launch of the brand's new TV campaign – 'Happenings'.
The social media initiative of the same name (#happenings) invites people to message @KopparbergUK on Twitter, Facebook and Instagram, telling them as creatively as possible 'why I want Kopparberg to make something happen', with entrants in the North West told to keep the evening of Wednesday 26 June free.
"The North West has a huge Kopparberg fan base, so we wanted to make sure we bring the #happenings competition to the region, to reward one of our fans with an experience they'll never forget," commented head of marketing at Kopparberg, Rob Calder.
The competition is part of a campaign from the cider brand to support its more 'eclectic' variants – Elderflower & Lime and Cloudberry.
Kopparberg is open to any form of entry and is encouraging fans in the North West to be as creative as possible in order to win. Once Kopparberg arrives in Manchester social media users will be able to join in the experience in real-time via the #happenings hashtag.
Following the Manchester event next week Kopparberg will move north to Scotland to deliver another summertime experience to another winner.