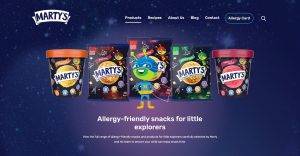 Leading food company, Danone, has launched a digital push to support its allergy-friendly children's product range, Marty's. The work was created in collaboration with LAB, the independent digital agency that uses a blend of consumer neuroscience, psychology and behavioural economics to design, build and market digital brands and experiences.
The Marty's range, which includes chickpea popped crisps and dairy-free frozen desserts, was developed for their Early Life Nutrition business by Danone's Manifesto Innovation Accelerator (MIA), the innovation lab which acts as a driving force for new product development.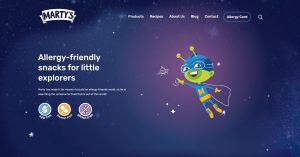 LAB worked in partnership with Danone to develop a dedicated Marty's digital platform, featuring the brand character Marty, an alien who lives on planet Zaddja and searches the universe for allergy-friendly foods. The site includes a Marty's Allergy Card feature, which allows parents and children to create and print out their own personalised allergy card, including their allergies and contact details, which can be clipped on to a bag or carried with them.
As part of the campaign, LAB and Danone have also created a series of short videos showcasing allergy-friendly recipes, which will be shared on social channels.
The push aims to engage with parents, taking the stigma away from children's allergies and creating trust, support and fun for families in an area previously known for strain and exclusion of children with allergies.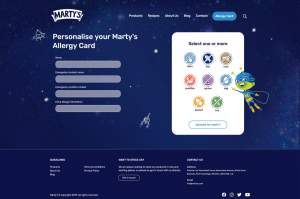 Tanya Pitchforth, Project founder, Danone, commented: "We understand from listening and talking to parents and children there is a growing demand for greater choice and increased confidence when it comes to free-from foods, which is why we're thrilled to bring this new range to market. The digital platform and social content we've created in partnership with LAB will helps us to support parents whose children are affected by allergies, in a fun and inspiring way."
Ipar L'Aimable, Creative Director, LAB, said: "We are very excited to have formed a creative partnership with Tanya and the MIA team at Danone on Marty's. As someone who has allergies myself, the project pulled on my heartstrings the moment the brief landed. We are proud to have created something which is vibrant, inclusive, informative and fun with the ethos, 'Supporting the parent, empowers the child'. Marty's fantastic journey has just begun, and we can't wait to be taken along for the ride."
Source: LAB