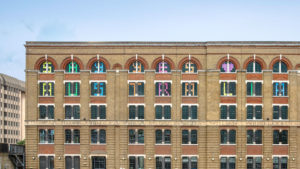 Leo Burnett London is showing its love and support of Australia's LGBTQ+ community by emblazoning its office windows with the phrase 'Say yes, Australia', in reference to the public survey on same-sex marriage equality.
The windows of Leo Burnett's offices overlook one of London's busiest stretches of road, the A4, which carries a great deal of the traffic in and out of Heathrow Airport.
The move comes as Australians take part in a non-binding postal survey asking them if they believe that the law should be changed so that same-sex couples can marry. Although there is wide support for the yes campaign it is vociferously opposed by conservatives, who claim that the vote is an attack on freedom of speech and religion.
Cassandra Jamcotchian and Hayley Power, Art Director and Copywriter respectively at Leo Burnett, said: "The Australian marriage equality vote is creating a lot of debate and hurt in the LGBT community in Australia, so we wanted to use our prime location on the busy A4 to show our support all the way from London."
Cassandra has also been contributing to the yes campaign with illustrations, which she is sharing on Instagram.
Australians have been sent their survey papers already, with a deadline of November 7 to return them. The result is due to be published on November 15, however the government is not under any legal obligation to change the law based on the outcome.
Leo Burnett London plans to keep its 'Say yes, Australia' windows in place until the 15th November.
Source: Leo Burnett London