For the first time in the history of the Spanish Christmas Lottery, features an animated short, telling a story that illustrates one of the most important characteristics of the Christmas Lottery and these holidays: the joy of sharing.
The campaign by the Leo Burnett agency, uses the same claim as in 2014, "There's no bigger prize than sharing," and it speaks again of universal values: generosity, companionship, friendship … But it does so in a surprising manner, through the figure of a likeable character called Justino.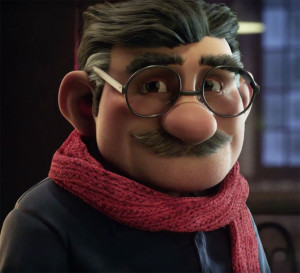 Justino is a security guard at a mannequin factory. Because he does the night shift he never coincides with his colleagues, and yet he spends his nights surrounded by human figures. His solitude and his eagerness to share things lead him to interact with the mannequins, and later to communicate through them with his colleagues on the day shift, creating situations that are both moving and amusing, and allowing him to establish with them the relationship he so longs for.
This story will be shown on television and in cinemas. In addition, the campaign includes executions for the press, exterior, radio, sales points and, naturally, Internet, primarily with the campaign website, which reveals the secrets and stories of this magical building where the action takes place.
One new feature in 2015, will be the active presence of the campaign in social media. The "Fábrica de Maniquíes El Pilar" has its own Facebook profile reporting on its day-to-day activities. And we can follow Justino's nights in real time via his Instagram account.
With this campaign, Loterías again highlights the nature of this Lottery, placing the emphasis once again on its most characteristic feature: this is a draw in which we all participate together, and if we win, we win together.