Leading Welsh creative agency, Limegreentangerine (LGT), has developed and launched a new TV commercial for iconic car manufacturer, MG Motor (MG).
The ad sets out to challenge some of the current, safe advertising trends to create something that is distinct, fun and which depicts the lifestyles, experiences and day-to-day adventures the family-friendly electric MG ZS EV can compliment.
Working with partners, London-based marketing consultancy PHM Group and illustrators, Hend & Lamiaa, the ad frames MG's core brand values; family, fun and great value. The result is an animatic, uplifting commercial that's underpinned by the 'for all' mantra of MG.
Alex Down, Limegreentangerine's Head of Brand, said: "We're proud of our work to create such a colourful, friendly animation that is full of zest. MG's energetic spot bucks the many forgettable car industry ad safety nets, usually consisting of big scenic panning shots or stock-photo families. We have stepped away from the norm to create an ad that is true to the MG brand spirit. Whilst our job wasn't to sell the 'concept' of electric cars, we hope that this ad will frame the MG ZS EV as a durable, everyday family car package that also happens to be battery powered. Its affordability makes it the first family-sized electric car on the market within reach of most new car buyers. Already we've seen a steep spike in traffic to MG's website."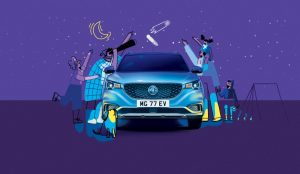 "Sales of new MG cars in the UK continue to go from strength-to-strength and we're very excited to be launching MG ZS EV, our first ever electric car. ZS EV is a truly affordable, family friendly electric car and we've already secured over 2,000 orders from customers eager to make the transition to zero emissions motoring with MG," commented Daniel Gregorious, Head of Sales & Marketing MG Motor UK.
"We're delighted to be launching a new commercial for ZS EV this October, which we feel showcases the car's brilliant qualities including its high-tech features, family sized practicality and seven-year warranty. The commercial also highlights ZS EV's great affordability and low running costs which make it the perfect electric car for everyone."
"Working with the team on this project has been fantastic, right from the initial pitch process through to implementation – they not only saw the importance of brand, tone of voice, and storytelling, but also needing to produce a commercial which is aligned with our overall sales strategy. The result is a stunning commercial which we feel completely encapsulates our brand and will speak to our target audiences in the right way," added Daniel.
Credits:
Client: MG
Concept & Direction: Limegreentangerine
Development: Limegreentangerine/James Foster
Script: James Foster/Alex Down
Production: James Foster
2D illustration & animation: Hend & Lamiaa
CG/compositing: Bokeh Digital
Sound: Syncbox Voice: Tim Loudon
Camera: Vidoo
Media Management: PHM Group
Source: Limegreentangerine