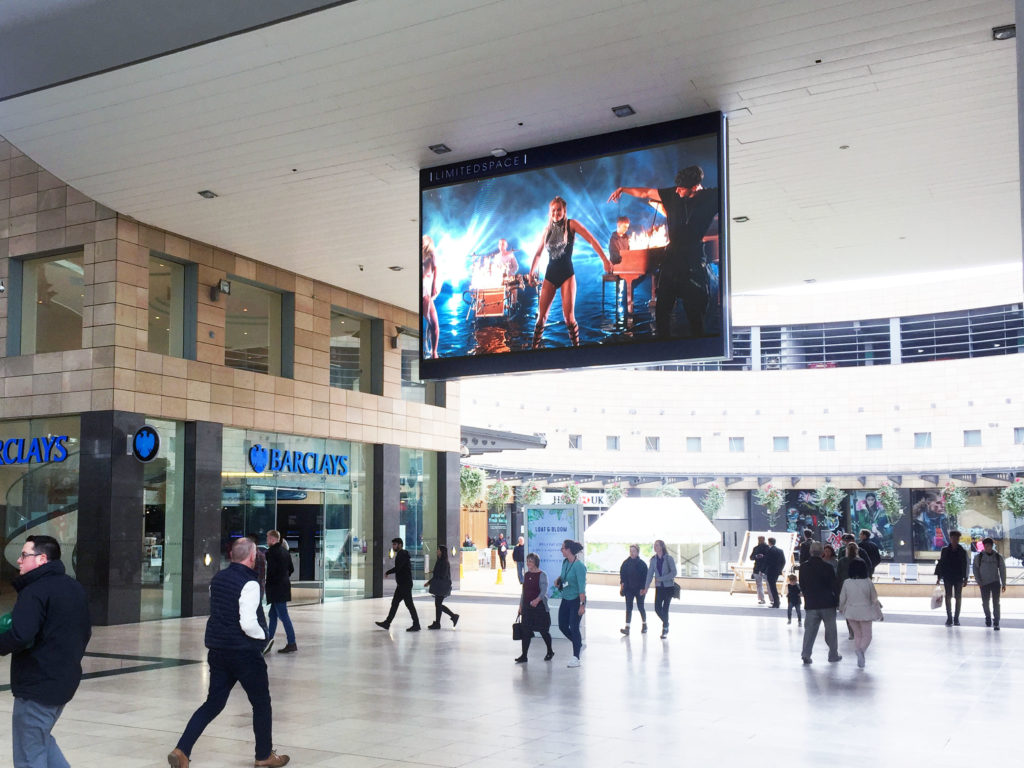 Shopping centre media specialist Limited Space has unveiled the next location in the roll out of its giant-format digital network 'Orbit'. The bespoke site, the thinnest double-sided LED screens installed in a retail environment in the UK, comprises two back-to-back screens produced by specialist LED designers and manufacturers infiLED®. Together, the screens offer advertisers 30m2 of digital display capturing shoppers from two directions in the high footfall central atrium of intu Milton Keynes.
Operating at the heart of one of the country's fastest growing British towns, intu Milton Keynes has an annual footfall of 16 million people made up of the area's young, prosperous and booming population that is rising twice the rate of the national average.
Limited Space Co-Founder and CSO Samantha Sida said: "We are truly excited to see the third new Orbit screen installed at intu Milton Keynes. We are fully committed to developing the best possible in-mall advertising opportunities, and Orbit's eye-catching and unique features, including full zonal sound and remote LED surround colour-change, certainly fulfil this, providing huge creative scope for advertisers and entertainment for mall visitors."
Roger Binks, customer experience director at intu commented: "This screen will make use of innovative technology and a high footfall retail destination to target shoppers already in a buying mind-set with the most engaging digital content.
"We're rolling out the same kind of technology at intu's popular shopping centres nationwide to give even more brands the opportunity to flourish at our high footfall destinations across the UK."
The site's sleek design delivers high definition dynamic display at 4.8mm pixel pitch with full zonal audio on both screens, which each measure 5m x 3m.
In addition, the colour of the built-in LED strip installed in the surrounds (between the back-to-back screens) can be changed remotely to complement an advertiser's creative and drive even greater stand-out.
The Orbit network is set to comprise twenty digital screens, both elevated and installed at eye level, by the end of 2017, and 27 by the end of 2018. At full strength the network will reach more than 600 million shoppers a year. Advertisers will be able to take full domination of the network or take standard 10", 20" or 30" slots as part of a six minute loop. Alongside advertising, the Orbit screens feature news and weather content.
Source: Limited Space