LinkedIn, the world's largest professional network, is set to launch its latest integrated marketing campaign, What Are You Searching For?
You can search and find millions of jobs on LinkedIn and the campaign is designed to raise awareness of this. It explores the many reasons why people look for a new job and features the stories of real people who have made the leap and found a new role via LinkedIn.
As part of the What Are You Searching For? campaign, LinkedIn will launch its first ever TVC in the UK. Airing for the first time on Tuesday 29 October during the Great British Bake Off final, the 60 second advert features real LinkedIn members revealing what they're really searching for in a job, and how they found that job on LinkedIn.
Following its launch, the TV ad will be screened during major broadcast slots across a number of channels, as well as on-demand and catch-up TV, including Sky, All4 and ITV Player. Alongside TV, the campaign will also be run across digital and social channels including LinkedIn, Facebook, Instagram, Twitter, and YouTube and will be supported by wide-ranging out-of-home, print and radio. These channels launched on 21st October and will run for seven weeks with focus cities being London, Manchester, Bristol and Birmingham.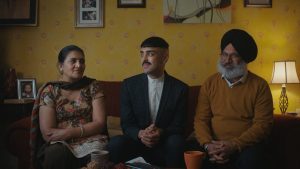 Ngaire Moyes, Senior Director, Brand and Communications, at LinkedIn EMEA, commented: "What are you searching for? It's a powerful question, and when we're talking about jobs, the answer is different for everyone, which is why sharing the experiences of our real and diverse members is a key part of our advertising strategy. This campaign continues to build on our 'In It Together' brand work that sought to create a new, warmer, more human feel with our members at its heart. We're excited to shine a light on some of these stories in this latest iteration of the campaign in the UK."
Matt Lever, Creative Chairman at BMB, which created the ad, said: "A person's job search is completely unique to them, so we didn't know what to expect when we asked Linkedin members 'What are you searching for?' Fortunately, the responses were inspiring, moving and sometimes downright amusing. As LinkedIn's first UK TV campaign, we feel like it's a great introduction for the brand in a category so often devoid of warmth and humanity."
Interbrand has published the 20th edition of its Best Global Brands Report, looking at the world's most valuable brands. LinkedIn has entered the list for the first time this year at #98. Microsoft takes #4, just behind Apple, Google and Amazon in #1, 2 and 3 respectively.
Source: BMB