'Love London' is the latest chapter of the Mayor's Let's Do London tourism initiative and highlights some of the many things to love about life in the capital
A takeover of Piccadilly Lights, posters, cinema, radio, outdoor and social media adverts will carry a love letter to the city as people are urged to 'make a date with London'
New film, art and nature trails are part of the campaign to encourage Londoners to make the most of the free things to enjoy in the city following the impact of the pandemic
The Mayor of London and Greater London Authority have today launched 'Love London' a new campaign which aims to encourage Londoners to re-connect and spend time with the city following the devastating impact of COVID-19 on London's retail, cultural, hospitality and leisure industries. 
The multi-channel campaign is the latest chapter of the Mayor's Let's Do London initiative. 'Love London' was conceived by in-culture communications agency Weber Shandwick and will see emotional, poetic love letters to London come to life across cinema, VOD, radio, the Tube network, roads, OOH, social, print and partnerships until 31st October. A takeover of Piccadilly Lights kick started the campaign to promote some of the best parts of life in the capital.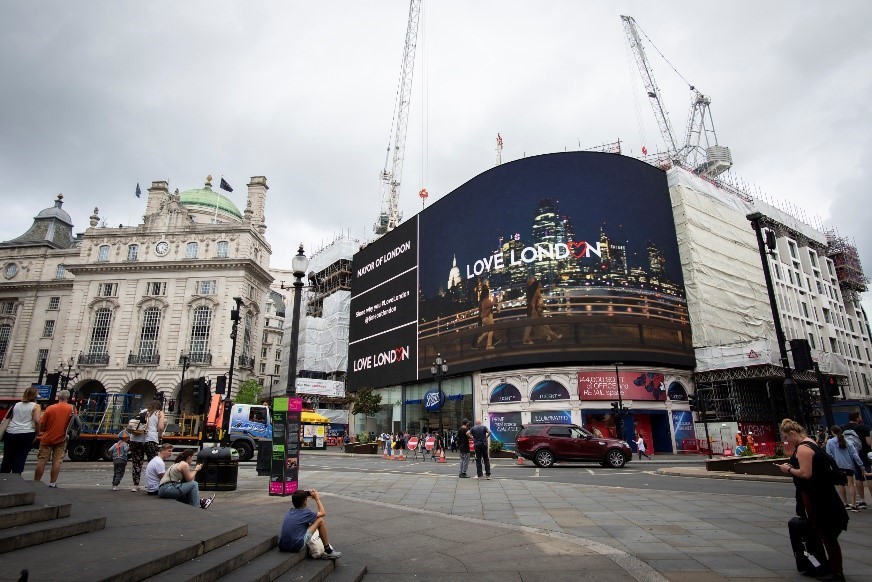 The centrepiece hero film is an impassioned ode to the capital, portraying a single day in London from many different perspectives, opening with a runner at dawn and ending with a group reveling into the early hours. The series of authentic vignettes celebrating the diverse and unique moments, events and emotions that underpin Londoners love for their city are peppered with documentary style snippets which provide a gentle reminder that it's Londoners who make London the city it is.
A photography competition to encourage Londoners to share what they love about London is being launched in partnership with Time Out as part of the campaign, with the winners set to receive one of five unique experiences in the city and their photo featured on Piccadilly Lights.
New film, art and nature trails have also been created to help Londoners discover more about their city. In collaboration with Film London, 'London film locations to love' highlights 10 famous scenes that can be relived, such as Four Weddings and a Funeral, Paddington, and Rocks. A Summer Art Trail, in partnership with TfL, Somerset House, Heart of London and North Bank BIDs, shows off the best contemporary public art and culture, such as Art on the Underground, Zarah Hussain's Pop Geometry at St James's Market and This Bright Land at Somerset House, while four nature trails provide walking routes to connect natural spaces in the city's most built up areas.
Last year, the Mayor's Let's Do London initiative – the biggest domestic tourism project the capital had ever seen – brought in an additional £81m in spending and 330,000 overnight visitors to the capital.
Earlier this year, the Mayor extended this initiative with £7m to encourage international tourists back to London, £2m to attract overnight UK visitors and £1m for reaching out to Londoners.
This summer, after a poll by City Hall showed that 40 per cent of Londoners don't know of ways to enjoy London for free, the Mayor has been highlighting the wide range of free and cut-price events and activities available. https://www.london.gov.uk/what-we-do/arts-and-culture/make-date-london
Helen Bennett, CEO, Weber Shandwick commented: "Like all great love stories, the love of London is complicated. The events of the past few years have transformed Londoners relationship with their city. From those who are just embarking on their early stages of their relationship to reminding long-term Londoners why they fell in love with the city in the first place, we were delighted to be part of this important campaign to encourage Londoners to make the most of what is on their doorsteps and ultimately show that it's impossible to just have a fling with London – it's an enduring love affair"
Richard Copping, Creative Director, Weber Shandwick commented: "There's a lot of responsibility in creating a campaign for London, this city means a lot of different things to a lot different people. We knew deep down, Londoners have an immense love of their city, which is something we wanted to celebrate. Our creative approach of a 'Love Letter' to London felt like the right idea to make Londoners feel special about their home. It also allowed us to capture some of the many moments, sights and sounds that make this place the greatest city in the world."
A GLA spokesperson said: "The love letter approach was the perfect vehicle for us to capture the diversity, vibrancy and energy that prompts Londoners to fall in love with the city over and over again. It encapsulates the sentiment shared by so many Londoners about their relationship with their home. Following the success of the Mayor's Let's Do London campaign in attracting visitors from across the country and the globe, we hope this latest phase encourages Londoners to 'make a date' with the capital and remember the unique reasons why they love London."
Source: Weber Shandwick