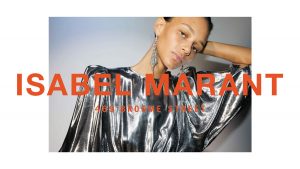 French fashion label Isabel Marant has launched an international media campaign to showcase its Spring/Summer 2019 collection, after continuing its global media buying relationship with Media Agency Group (MAG).
Isabel Marant is worn by celebrities including Kate Bosworth, Katie Holmes, Anne Hathaway and Hilary Duff and its latest fashion range will be seen in premium eye-catching locations across the cosmopolitan cities of New York, London, LA and Milan from the end of January.
John Kehoe, CEO of Media Agency Group said: "We have positioned the visually striking creative for the Spring/Summer '19 collection, in the most optimum and premium locations. We have placed emphasis on proximity to stores (including Sunset Strip in LA) – particularly around fashion events and shows, inc. NY fashion week. We have worked with Isabel Marant for several years now and are delighted to evolve our working relationship to raise brand awareness of their exquisite range of clothing and footwear in the finest media locations."
French fashion designed Isabel Marant established her brand in the 1994 and opened her first store in a former artist's studio on rue de Charonne in the Bastille district, in Paris in February 1998. This was followed by a second store on rue Jacob in Saint Germain des Pres in February 2000, and a third store on rue de Saintonge in 2007. Originally consisting only of a line of jerseys and knitwear, the brand is now best known for its shoes.
MAG has its HQ at MediaCityUK as well as an office in Shoreditch, London and its portfolio of clients includes Ferrari land, Jelly belly, Perry Ellis, Visit Mexico, Protyre, Scalable Capital, Bermuda tourism and Sykes cottages.
Source: Media Agency Group