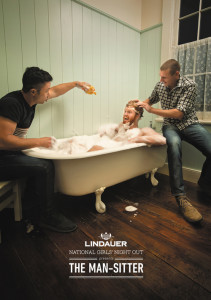 Friday, 15th November sees women nationwide join ranks for a compulsory night out with the girls.
No excuses this year Lindauer has made it even easier for the girls to get their glam on and ditch the drudgery with a Kiwi first – the Man-Sitter.  The new campaign by DDB sees Kiwi celebrity Man-Sitters look after the boyfriends to keep the men entertained while the girls let their hair down.
"The Lindauer Man-Sitter offers the best of both worlds – a guilt-free night out for the girls, and for the boys – entertainment from four very different blokes, depending what you're into." explains Andy Fackrell, Executive Creative Director, DDB.
There'll be no tears at bedtime with Che Fu, Mike & Dom (The Edge Breakfast), Mark Richardson (The Block NZ, Crowd Goes Wild) & Matt Watson (The ITM Fishing Show), all taking one for the team and stepping forward to offer their services as professional Man-Sitters, going to a good home.
"I've never been a Man-Sitter before," comments Mark Richardson. "But what a great idea! I can't wait to put my Man-Sitting skills to the test and show one lucky guy that he can cope while his lady is out. And I'm going to show him how."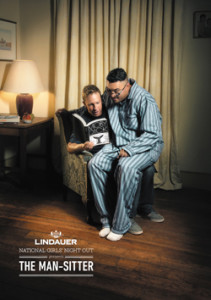 Man-Sitters are keeping tight-lipped about what they have in store for their four lucky charges. But it's guaranteed there won't be a dull moment with Mike & Dom.
"We've definitely got a great night up our sleeves. The only tip we can offer at this stage is to scotch guard the sofa… and a bit of waterproofing on the walls might be a good idea too," share the boys.
Che Fu isn't inclined to go down the wacky path, but could a new song track come out of the experience?
"Never say never, I say.  I reckon my experience as a Man-Sitter could inspire something quite radical musically. Either way, we're going to have a mean night."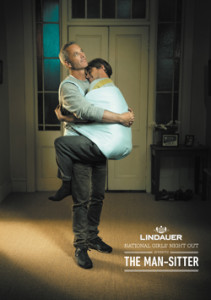 Matt Watson doesn't want to be predictable with notions of a night fish or anything nautical. But he reckons he'll appeal to the sportier blokes seeking a Man-Sitter and with that in mind, the world is your oyster.
"I guess my bloke will be hoping for back-to-back episodes of The ITM Fishing Show, which is understandable. But I've got way more tricks up my sleeve than that. Watch this space."
Man-Sitters can be won through a national promotion where girls can win the chance to be professionally styled and made-up, arriving at their Lindauer National Girls' Night Out in style, with the added bonus of putting their man forward for a unique Man-Sitting experience. The promotion went live on facebook.com/LindauerNZ on Tuesday 29th October 2013.
Enjoy your Lindauer National Girls' Night Out responsibly.