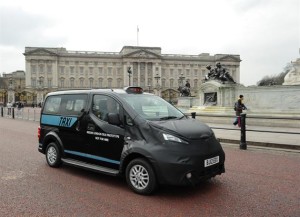 Nissan has reinvented the classic London black cab with what it describes as the "most reliable, economical and user-friendly Hackney Carriage" to ride the capital's streets.
Final testing of the NV200 London Taxi, which sports a distinctive new "face", has kicked off in London this month. The final vehicle will be revealed at an event later this year, while sales of the new fleet will begin in the second half of next year.
Nissan won the contract to develop the cars following the success of a similar project in Tokyo, and it has also developed New York City's "Taxi of tomorrow".
The automotive brand has been working on the London taxis for the past 12 months, and the cars comply with all Transport for London regulations, including a 25ft turning circle. An all-electric model is currently in development.
Nissan said the car's sliding doors improve people's access to its five passenger rear interior, while a glass roof will let people enjoy the sights while being driven around town. Customers will be able to charge smartphones through in-built plug-in ports.
This autumn Nissan tapped into the wearable tech hype by launching the Nissan Nismo Concept Watch, which uses a blue tooth connection to monitor factors such as the efficiency of the vehicle, average speed, fuel consumption and the driver's heart rate.